Posted on September 7th, 2005 by maitreya. Filed under Cross Stitch/Embroidery.
My sister got this for me last Christmas. It's an awesome vintage crewel kit (Spinnerin ST 1051, no date unfortunately). Here's the picture from the kit: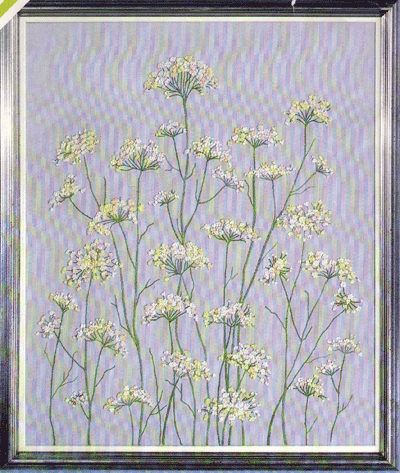 I did one flower as directed, complete with lots of fiddly palestrina knots and twisted chain stitches.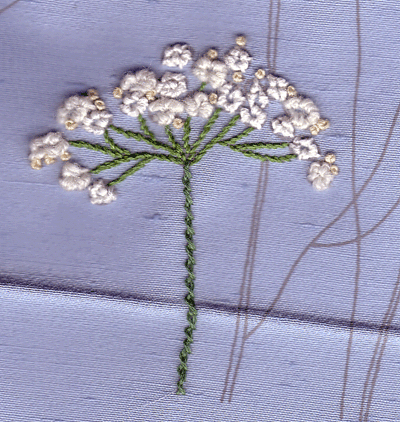 I really love the design and the blue shiny satin that it's on. But, it seems kind of boring to do the entire thing this way. I don't even mean boring to work, because I actually enjoy some tedious crafting, but boring to look at. I can't help thinking I could turn this into something really amazing if only I could think how. I like having the one "classic" flower, but maybe do the rest in some unexpected color palette, like blue stems and silver flowers? Or have the flowers fade out as they get further from the normal one, like the greens get duller and the whites get grayer until the flowers on the periphery are all pale gray? I would love to turn it into a really modern piece.
Apparently the woman behind Wool & Hoop has a book coming out, so maybe crewel's about to take off.
8 Responses to "Queen Anne's Lace crewel"
email
books I'm in
other sites I'm on
Pinterest
Categories
Blogroll
Archives
creative commons