Posted on September 20th, 2005 by maitreya. Filed under Paper Crafts.
Here are a couple of the stamps my husband and I carved for letterboxing. His is the little guy with the flag and mine is supposed to be a tree. It sort of looks like one, I guess. These were done with an exacto knife. I suspect a lino cutter is going to be easier. I found a book at the library that was really good, but googling for eraser carving brings up a zillion tutorials too.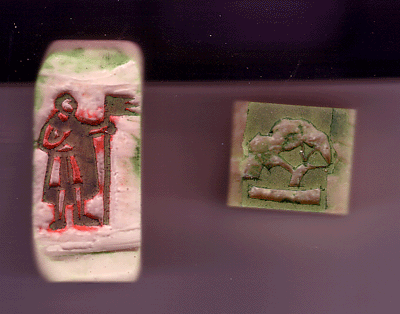 7 Responses to "carved stamps"
email
maitreya[@]craftlog[.]org
books I'm in
Pinterest
This week, I'm in Jaipur, India, starting my second teaching stint with Ritchie Ace Camps. Last year's Jaipur experience was amazing (lots of pics here), and I can't wait to meet everyone who is coming on the 2015 version (although I'm going to miss last year's group like mad!). I hadn't used block printing techniques a lot …
Categories
Blogroll
Archives
creative commons
craftlog is under a
Creative Commons
Attribution Noncommercial
license
. That means that you are all welcome to take and repost my photos, replicate my projects, remix my ideas, whatever you want as long as you give attribution (a link is fine) and it's noncommercial. Thanks!