Posted on September 22nd, 2005 by maitreya. Filed under Sewing/Fabric Crafts.
I made a post a while back about going to Paper Source, and Hillary commented that when she's there, she wishes all the paper was fabric instead. I felt exactly the same way, and now I've fulfilled the wish. Well, as long as I only wish for 8×10.5 fabric.
Sewing stars has been making some neat pouches lately by printing directly onto fabric using freezer paper. She even did a little tutorial. I've seen this on Craftster, too, and it finally made me remember to get a roll of freezer paper at Walmart (with the saran wrap etc). The trick is that the freezer paper is plastic coated on one side, so you can iron it on to the fabric. The paper supports the fabric while it goes through the ink jet printer. Everybody recommends getting fabric over 200 threads/inch. I used an Ikea bedsheet I had laying around. I doubt it's 200 threadcount, but it still worked fine.
I scanned in my favorite wrapping paper (long time craftlog readers may recognize it from my last site design) and then printed it back out on the fabric. It worked! Here they are side by side.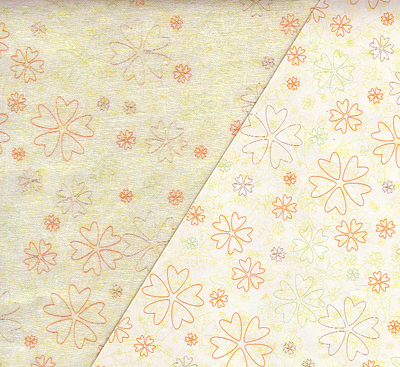 It's destined to be the lining for a little bag I'm making.
Another exciting thing about this is that I can shrink fabric patterns to Blythe scale now! And then I can print the patterns right on top of the fabric! No more teensy pattern pieces to pin. Must try this soon.
20 Responses to "paper -> fabric"
email
books I'm in
other sites I'm on
Pinterest
Categories
Blogroll
Archives
creative commons