Posted on November 6th, 2005 by maitreya. Filed under Projects with Instructions.
We went to see Nine Inch Nails last night, sort of an early birthday present to myself (my birthday's in a week). I've seen nin now 4X live, first time ~1994. Last time was in 1996 maybe, when he was touring with David Bowie. He's still got it. The show last night was incredible. We had general admission tickets, which was pretty exciting. Got pretty close, and only fell over and almost got crushed once. Also got kicked in the face by a crowd surfer and bent my glasses. Great fun.
Anyway, it reminded me of a mural Mark and I painted back in college. As of last year, it was still up. We based it off a giant poster I had. The poster was a black and white photo, so we taped together a bunch of sheets of tracing paper and traced the main contrasty parts. We taped the tracing paper to the wall with sheets of carbon paper behind it and traced the whole thing again to transfer it to the wall. Then we painted it all in. It's in a narrow hallway bit, so I couldn't get a picture straight on, but you get the gist.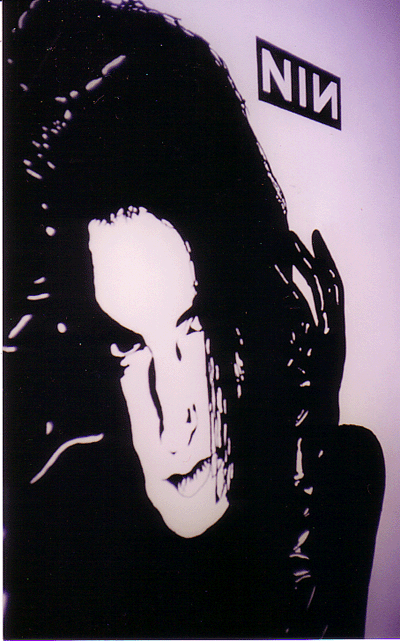 10 Responses to "Trent Reznor mural"
email
books I'm in
other sites I'm on
Pinterest
Categories
Blogroll
Archives
creative commons