Posted on November 10th, 2005 by maitreya. Filed under Crafty Review.
As a clever reader spotted on one of my posts, I'm a reader of McSweeney's. The Quarterly ususally focuses on short fiction, but they throw all sorts of stuff in there. (Also, if you ever get a chance, make sure to visit their pirate supply store in San Francisco and the superhero supply in Brooklyn, which are actually writing outreach centers in disguise.) Besides the writing, which is often very good (and often needlessly obtuse, it can take me a while to completely read an issue), the design is fantastic. The covers are always brilliant, my favorite lately being the Icelandic issue: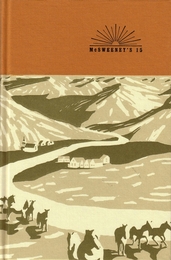 I also liked the last issue, which came in several pockets in a folding bookboard case covered in tree-print bookcloth. And came with a comb for some unknown reason. But *this* issue, this one takes the cake. It's a stack of mail. You get to open all the letters, and look through the bizarro sales circulars, and read the latest issue of Yeti Researcher. I'm really enjoying it.
One of the envelopes (helpfully labeled "Envelope") was particularly great to open because it contained 13 prints from various artists, including these two I particularly like by Camille Rose Garcia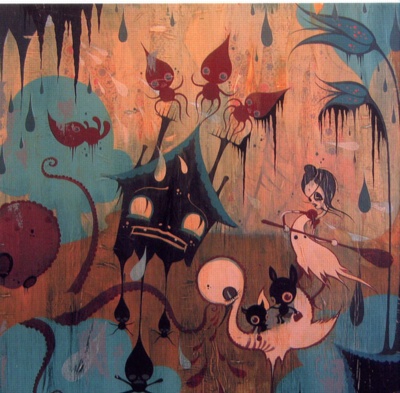 and Mark Ryden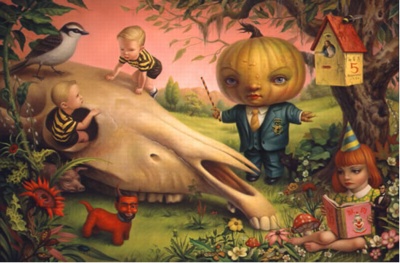 They are going up pronto in the craft room. What is even more exciting is that Envelope may become a regular offering if they get enough interest. Unfortunately, the advertised website doesn't seem to work, but I'm posting the address here so you can write to be added to the mailing list if you're interested:
Envelope
c/o 826LA
685 Venice Blvd
Venice, CA
Also, speaking of Camille Rose Garcia, Mark Ryden, and artists kind of like them, I just found this neat book at the library, Weirdo Deluxe: The Wild World of Pop Surrealism & Lowbrow Art, by Matt Dukes Jordan. It introduced me to a bunch of neat artists that I hadn't run across before. Each artist gets several pages, too.
5 Responses to "Envelope"
email
books I'm in
other sites I'm on
Pinterest
Categories
Blogroll
Archives
creative commons