Posted on November 25th, 2005 by maitreya. Filed under Holiday.
My niece and I had some quality crafting time over Thanksgiving. What we did:
pipe cleaner candy cane
ornaments made from drawings. She drew a picture on fabric with some markers, which I sewed to a backing. Turn inside out, stuff, then sew the hole and add a hanger. My mom still has a couple like this that I made when I was little.
embroidery. She drew a picture on fabric with water-cleanup markers, then outlined it with a running stitch. The star is her first one! The dog's still in progress. Once it's done, you can rinse out the marker so just the embroidery remains.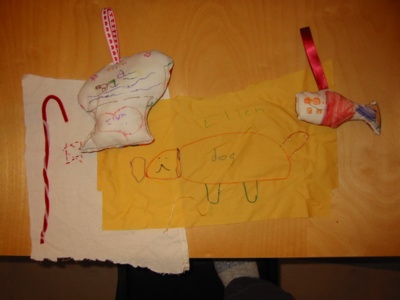 4 Responses to "kids ornament crafts"
email
books I'm in
other sites I'm on
Pinterest
Categories
Blogroll
Archives
creative commons