Posted on December 19th, 2005 by maitreya. Filed under Sewing/Fabric Crafts.
I made this kanzashi tsumami pin for my friend. I used the instructions from Oh Bara this time. I like them better than the Craftster tutorial I used last time. I also continued my hot glue kick, which worked ok. I think next time I will sew them together and then hot glue them. The petals are a bit uneven. I made the two individual flowers thinking I would give them to two people, but then I thought they looked pretty good together and glued them both on a backing with a pin. I'm pretty happy with it. The fabric is kimono silk from not-sure-where.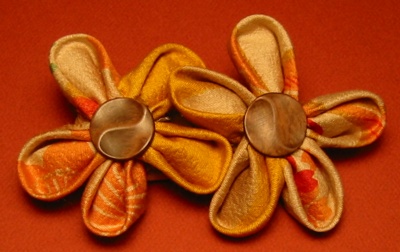 9 Responses to "double kanzashi pin"
email
maitreya[@]craftlog[.]org
books I'm in
Pinterest
Categories
Blogroll
Archives
creative commons
craftlog is under a
Creative Commons
Attribution Noncommercial
license
. That means that you are all welcome to take and repost my photos, replicate my projects, remix my ideas, whatever you want as long as you give attribution (a link is fine) and it's noncommercial. Thanks!