Posted on December 26th, 2005 by maitreya. Filed under Sewing/Fabric Crafts.
Well, so much for the advent calendar :P
I did make a present for my sister, though. The pattern is from this Japanese craft book. The patch is from ferdinand. The fabric is an old dress (previously seen as a Blythe dress). The straps are the ties from the dress. The lining is an animal print I got in a swap. The pearl snap I managed to shatter while mounting it. Next time I'll put a towel or something under it. It actually looks kind of cool, though, so I left it that way.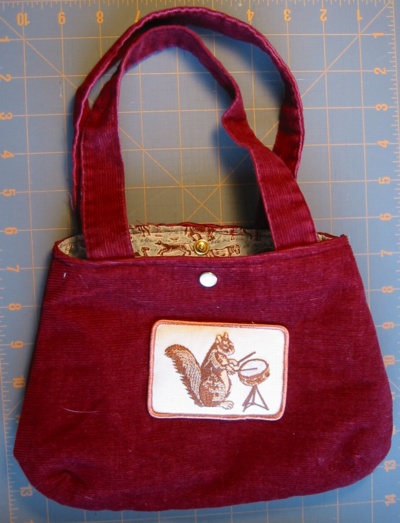 10 Responses to "squirrel bag"
email
maitreya[@]craftlog[.]org
books I'm in
Pinterest
This week, I'm in Jaipur, India, starting my second teaching stint with Ritchie Ace Camps. Last year's Jaipur experience was amazing (lots of pics here), and I can't wait to meet everyone who is coming on the 2015 version (although I'm going to miss last year's group like mad!). I hadn't used block printing techniques a lot …
Categories
Blogroll
Archives
creative commons
craftlog is under a
Creative Commons
Attribution Noncommercial
license
. That means that you are all welcome to take and repost my photos, replicate my projects, remix my ideas, whatever you want as long as you give attribution (a link is fine) and it's noncommercial. Thanks!