Posted on February 27th, 2006 by maitreya. Filed under Sewing/Fabric Crafts.
I got this great piece of Alexander Henry fabric in a swap with craftopia. It's a long skinny piece, so I was initially at a loss for what to do with it. The big flowers are so great, though, and I have this great applique book out from the library. Plus, I'm into the red/pink combo these days and had a plain pink shirt hanging around. Once I had the idea, it took less than an hour to whip the whole thing up.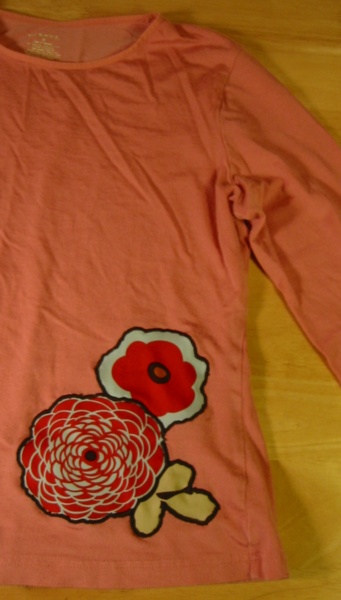 Instructions: cut out the flowers with about an eighth of an inch margin. Position them on the shirt and place a layer of stabilizer underneath the shirt and behind the flowers. The stabilizer makes the sewing *so much easier.* Sewing on knits is usually a disaster for me, and it turns out that stabilizer is totally the solution. Pin the three layers together and satin stitch around the edge. Tear off the stabilizer and you're done! My satin stitching leaves a little bit to be desired, but if you stay at a normal viewing distance, it's fine.
20 Responses to "applique shirt"
email
maitreya[@]craftlog[.]org
books I'm in
Pinterest
Categories
Blogroll
Archives
creative commons
craftlog is under a
Creative Commons
Attribution Noncommercial
license
. That means that you are all welcome to take and repost my photos, replicate my projects, remix my ideas, whatever you want as long as you give attribution (a link is fine) and it's noncommercial. Thanks!