Posted on April 16th, 2006 by maitreya. Filed under Cross Stitch/Embroidery.
More embroidery for The Project. I want to offer 2 variations, one for sewing supplies and one for office supplies, one with hand embroidery and one with machine embroidery, and two different styles to appeal to different readers. After I had enough of the hand embroidery today (will post more of that soon), I was rummaging through my thread trying to pick a color scheme for the machine-embroidered one when I thought about doing it as a kind of sketch. I think it's because I've been digging Obsessive Consumption lately and wishing that I could draw. I'm not 100% sold on it yet. I can't decide if it looks cool and modern or just scribbly. Any ideas on what I could replace the rubber bands with? I like them the least. I'm in love with my embroidered sharpie, though. And of course the scissors.
Big technical breakthrough with the machine embroidery: behold the power of the darning foot. All the tension-weird-loopy-back issues I was having *poof* disappeared.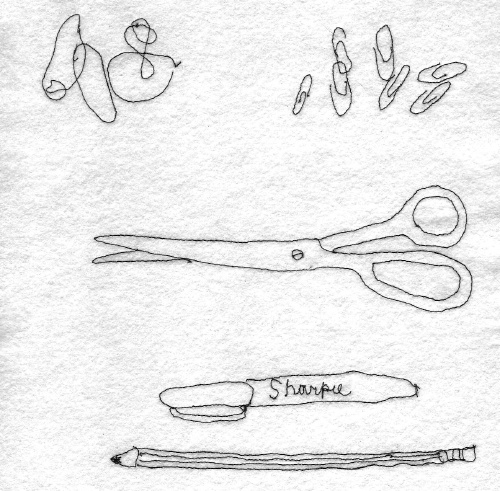 5 Responses to "embroidered office supplies"
email
maitreya[@]craftlog[.]org
books I'm in
Pinterest
Categories
Blogroll
Archives
creative commons
craftlog is under a
Creative Commons
Attribution Noncommercial
license
. That means that you are all welcome to take and repost my photos, replicate my projects, remix my ideas, whatever you want as long as you give attribution (a link is fine) and it's noncommercial. Thanks!