Posted on August 20th, 2006 by maitreya. Filed under Sewing/Fabric Crafts.
The bag I got from Little Purl of the Orient for backtack II got ripped. I felt really bad since is was such nice materials and so well constructed, so I decided to try to save it. I was able to salvage two nice rectangular pieces (with interior pockets intact!) and resewed them together into this cool geometric bag. There's tight zigzag stitch around the handle and the top edge, which really adds some nice extra structure. I'm very happy with it. It's like a whole new bag!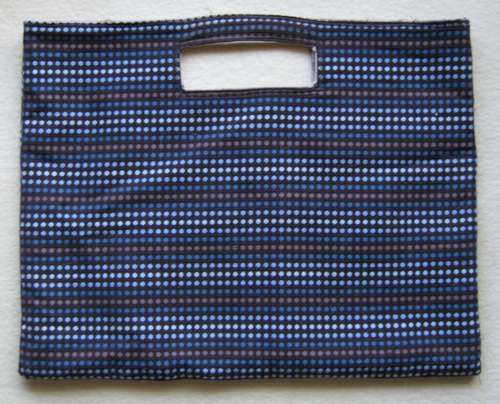 8 Responses to "dotty bag rescue"
email
maitreya[@]craftlog[.]org
books I'm in
Pinterest
This recipe with white beans is probably my favorite farro salad yet. The creamy beans play a huge role in that, along with the sweet tender leeks and fresh parsley. But it's the chunks of salty, citrusy preserved lemon, a condiment often used in Moroccan cooking, that really takes this salad to the next level.
Categories
Blogroll
Archives
creative commons
craftlog is under a
Creative Commons
Attribution Noncommercial
license
. That means that you are all welcome to take and repost my photos, replicate my projects, remix my ideas, whatever you want as long as you give attribution (a link is fine) and it's noncommercial. Thanks!