Posted on August 29th, 2006 by maitreya. Filed under Crochet.
I'm wedding hopping/on vacation this week, so lots of airplane crafting. One cross country flight = one crochet dishcloth. I wanted to try out some new crochet stitches in anticipation of making a scarf or something, so I got the Vogue crochet stitch dictionary out of the library. If this pattern is any indication, I wouldn't recommend it. It was overly complicated and poorly written. About 3 rows in I figured out a much easier way to do it. This one was made with peaches and cream cotton yarn. If anybody's interested, I can write up a little pattern.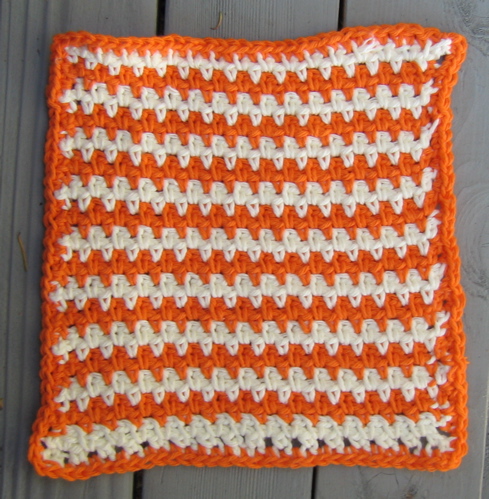 21 Responses to "dishcloth"
email
maitreya[@]craftlog[.]org
books I'm in
Pinterest
This recipe with white beans is probably my favorite farro salad yet. The creamy beans play a huge role in that, along with the sweet tender leeks and fresh parsley. But it's the chunks of salty, citrusy preserved lemon, a condiment often used in Moroccan cooking, that really takes this salad to the next level.
Categories
Blogroll
Archives
creative commons
craftlog is under a
Creative Commons
Attribution Noncommercial
license
. That means that you are all welcome to take and repost my photos, replicate my projects, remix my ideas, whatever you want as long as you give attribution (a link is fine) and it's noncommercial. Thanks!