Posted on October 31st, 2006 by maitreya. Filed under Cross Stitch/Embroidery, Gocco/L Letterpress.
I signed up for The Red Button Tree's embroidered patch swap. I have some leftover patches from my reader appreciation trinket giveaway from a while back. There were a few that didn't print completely, but I've kept them around anyway. I embroidered over one for my patch to send in. I like the effect, and it was a good little tracing project for tonight when I wasn't feeling all that creative. I added iron-on backing to keep all the threads tight.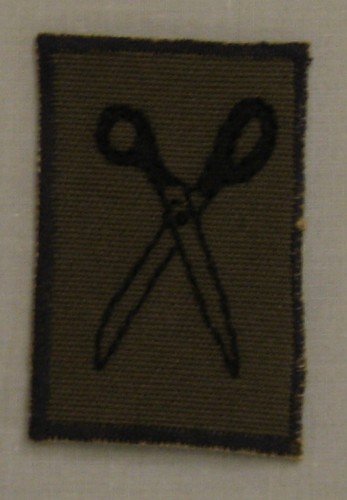 2 Responses to "embroidered patch"
futuregirl Says:
October 31st, 2006 at 11:06 pm

I'm excited about this swap. I can't wait to see all the cool patches (like this one) that get sent in. Not to mention the 'extra goodies' that Red Button Tree has teased us with.

Lify Zeng Says:
March 18th, 2007 at 10:02 am

We provide all kinds of embroidery digitizing for caps,shoes,
sportswear, patch, curtain, water-soluble material and more.
We are well organized with experienced professional designers
and specialists. In addition, the experience of service to our
foreign customers renders us the fullest satisfaction to our
customers. We are willing to provide you with our Embroidery
Digitizing service at the most preferential price.
Are you seaching for embroidery digitizing service? Do you want
to enjoy a professional high quality and prompt service? Here
is the chance.
We, ZENS, specializing in providing professional custom embroi-
dery digitizing services, now provide a free trial for you.
The only thing you have to do is to send an email to
zlf026@126.com.After this free trial (within 5,000 stitches for
new customers'first sample), we are confident that you will be
impressed by our quality service.
Start your free trial now! No cost to start your free trial!

Online contact:
msn:zlf578122@yahoo.com.cn
skype:zlf5781221 email:zlf026@126.com
email
maitreya[@]craftlog[.]org
books I'm in
Pinterest
This recipe with white beans is probably my favorite farro salad yet. The creamy beans play a huge role in that, along with the sweet tender leeks and fresh parsley. But it's the chunks of salty, citrusy preserved lemon, a condiment often used in Moroccan cooking, that really takes this salad to the next level.
Categories
Blogroll
Archives
creative commons
craftlog is under a
Creative Commons
Attribution Noncommercial
license
. That means that you are all welcome to take and repost my photos, replicate my projects, remix my ideas, whatever you want as long as you give attribution (a link is fine) and it's noncommercial. Thanks!