Posted on December 2nd, 2006 by becket. Filed under Sewing/Fabric Crafts.
I've been trying to convince my friend, coworker, and fellow crafter Becket to start a blog. She has so far resisted. Then we teamed up on a project for another friend's baby shower, which was the perfect excuse to convince her to start posting on craftlog. So, you'll start to see the occasional post by Becket. She's a great sewer and vintage rehabilitator and I think you'll really like her projects. So, without further ado, here's Becket:
Hello fellow crafters! Here's my quilt story. Recently, I made a log cabin pillow (I'll make sure to post a pic of this soon) with Maitreya's design help. I was so happy with the result that I decided to make an actual quilt. A friend of ours is having a baby soon – so I thought that this would be the perfect opportunity to test out my newly acquired quilting skills. The couple does not know the sex of the baby, so making it blue or pink was out of the question. But, when I really thought about it, I probably wouldn't have made it blue or pink anyways…So, I decided to make it earthy colors of brown and green (this couple spent significant time living in Berkeley, CA so the earthy colors make sense). Turns out that I had a number of brown and green fabrics in my small (but growing!) fabric collection, with some new and some vintage materials. Searching for a quilt pattern for inspiration, I looked through Maitreya's gorgeous Denyse Schmidt quilt book. One pattern caught my eye and immediately Maitreya and I started brainstorming about fabrics and how to change the pattern to make it a bit less complex to construct (after all it would be my first quilt!). We started by laying out all the fabrics side-by-side for the patchwork panels. Then, with the help of my trusty rotary cutter, I cut out the slices of fabric and sewed them together…so far, so good. Then I cut the patchwork panel in half (lengthwise) into two separate panels. Then, Maitreya's husband Mark had the brillant idea to create a pocket in the quilt to hold a stuffed animal. Then Maitreya chimed in that she would make the stuffed animal based on a Wee Wonderfuls pattern (check out her adorable little bear in a previous post) to coordinate with the quilt. Excellent! So, now we were really cooking. I sewed the panels together (with a pocket lined with heavy interfacing to give it stability) and used "Dream Wool" quilt batting (from Purl Soho) for the center (which is truly a dream to work with). Then I basted the top, batting and bottom together. The last step was to put on the quilt binding. Ouch. This is harder than I thought. First, I took the easy way out and decided to just sew along the top. The binding started to twist and it looked terrible. So, I ripped it out and decided to do it the "right" way, where you unfold the binding and sew along the inner edge. This way, when you refold the binding around the edge, you do not see the machine stitches. Then, when you flip the quilt over, you still need to stitch the other side – but you have to do this by hand in order for the stitches not to show. Needless to say, this took a while. :)
But, in the end, when Maitreya and I presented the quilt and bear (in the pocket) to our friend at her shower, it was all worth it!! She appeared very touched by the gift and we were thrilled to give it to her.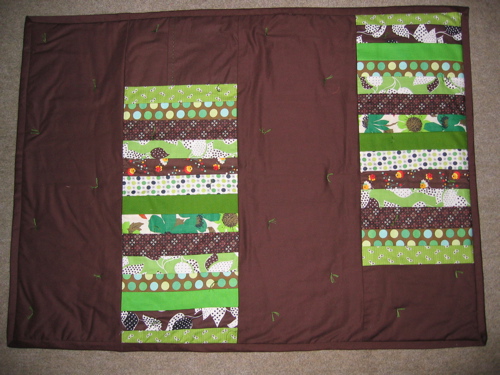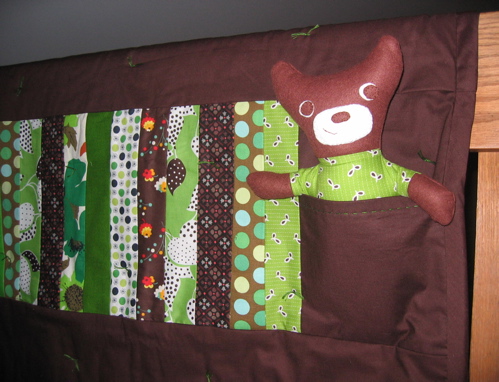 8 Responses to "Baby Shower Pocket Quilt"
email
books I'm in
other sites I'm on
Pinterest
Categories
Blogroll
Archives
creative commons