Posted on December 27th, 2006 by maitreya. Filed under Blythe.
I finally broke down and got a mini-Blythe from somebody on the Blythe lj community. I named her Penelope (Penny for short) and she's a Kozy Cape. Her stock outfit included some funny earmuffs glued to her head, but luckily they came off cleanly. The minidress is from orriettacat's collection, and I think I printed it out too small.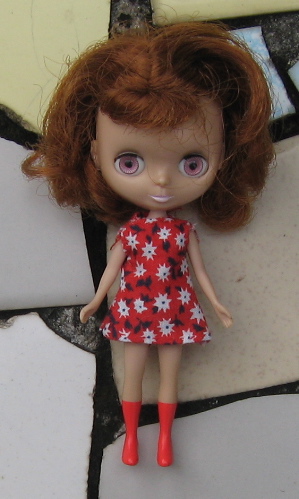 Look, she matches her big sister!
4 Responses to "mini-Blythe mini-dress"
email
maitreya[@]craftlog[.]org
books I'm in
Pinterest
This recipe with white beans is probably my favorite farro salad yet. The creamy beans play a huge role in that, along with the sweet tender leeks and fresh parsley. But it's the chunks of salty, citrusy preserved lemon, a condiment often used in Moroccan cooking, that really takes this salad to the next level.
Categories
Blogroll
Archives
creative commons
craftlog is under a
Creative Commons
Attribution Noncommercial
license
. That means that you are all welcome to take and repost my photos, replicate my projects, remix my ideas, whatever you want as long as you give attribution (a link is fine) and it's noncommercial. Thanks!