Posted on February 22nd, 2007 by maitreya. Filed under Sewing/Fabric Crafts.
Whoa, long time no post. I've been working, I guess. And my internet time has lately been spent fangirling Panic! at the Disco sites (no I'm not kidding). For example, watching this video on YouTube and noticing Pete Wentz in the background singing along. His hoodie says "love can't save you" and I decided I needed a shirt that says this. Googling for it, I found out that it is actually a quote from Star Wars episode 3, the rest of which–"only my new powers can"–is on the back. And that originals are now $300 on eBay. So, I made my own with fuzzy iron-on letters (and nothing on the back). Haha, I love it way more than I should.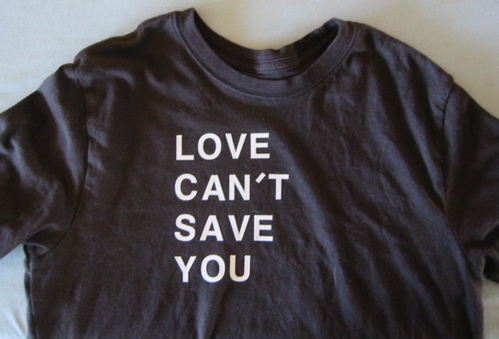 5 Responses to "emo shirt"
email
maitreya[@]craftlog[.]org
books I'm in
Pinterest
This recipe with white beans is probably my favorite farro salad yet. The creamy beans play a huge role in that, along with the sweet tender leeks and fresh parsley. But it's the chunks of salty, citrusy preserved lemon, a condiment often used in Moroccan cooking, that really takes this salad to the next level.
Categories
Blogroll
Archives
creative commons
craftlog is under a
Creative Commons
Attribution Noncommercial
license
. That means that you are all welcome to take and repost my photos, replicate my projects, remix my ideas, whatever you want as long as you give attribution (a link is fine) and it's noncommercial. Thanks!