Posted on April 26th, 2007 by becket. Filed under Toys (cat and kid).
Hi – this is Becket. I'm over Maitreya's place for another crafty get-together and we've decided that I needed to post something new. So, with my husband's help, I made a cat tent. My husband had a passing fancy with sewing and so he helped me with this project. We made it from a pattern that I bought off eBay. The brown and orange fabric is very thick and did not require interfacing – I found it at IKEA (and, in fact, Maitreya was with me at the time…). My husband found the poles at Home Depot and used spray Krylon paint to turn them orange and match the color of the inside of the tent. It didn't look like much – until we put the poles in – then Voila! – it popped into a perfect miniature tent! Jamie, our cat, likes to hide out in it – that is, when he doesn't attack it. Cats are such appreciative creatures, aren't they? :)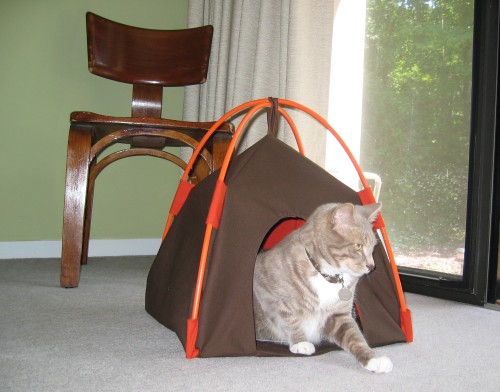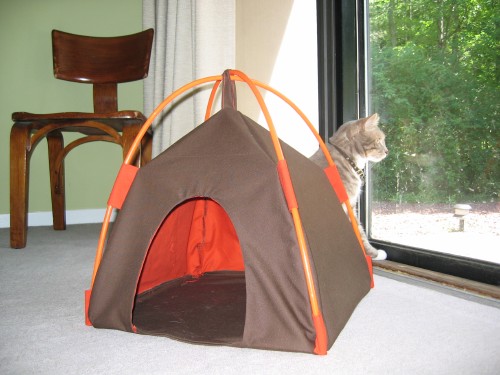 13 Responses to "Cat Tent!"
email
maitreya[@]craftlog[.]org
books I'm in
Pinterest
Categories
Blogroll
Archives
creative commons
craftlog is under a
Creative Commons
Attribution Noncommercial
license
. That means that you are all welcome to take and repost my photos, replicate my projects, remix my ideas, whatever you want as long as you give attribution (a link is fine) and it's noncommercial. Thanks!