Posted on April 26th, 2007 by becket. Filed under Sewing/Fabric Crafts.
Hi – Becket here again. I'm expecting a baby soon (due in August) and so it's been a good excuse to make cute baby stuff (keep a lookout for future posts – I have a few projects that I'm wrapping up). Since I've been on a quilting binge lately, I thought some quilted baby bibs would be cute. I've seen several examples of quilted bibs lately that have served as great inspiration. I placed bright contrasting fabrics on the back, so they are reversible. Maitreya and I put a pearl no-sew snap on the pink/green one. We needed a hammer to do this and there were quite a few layers to go through so it took quite a bit of strength to get it through. For the blue one, I just sewed on a snap. There is a layer of quilting batting in the middle which has been needlepunched so it won't shrink or change shape in the wash. One last thing? I need to scotchguard them before they are used!!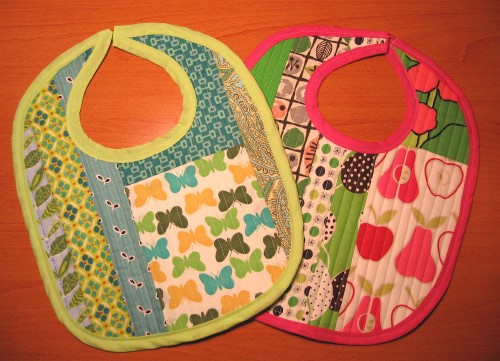 12 Responses to "Quilted baby bibs"
email
maitreya[@]craftlog[.]org
books I'm in
Pinterest
Categories
Blogroll
Archives
creative commons
craftlog is under a
Creative Commons
Attribution Noncommercial
license
. That means that you are all welcome to take and repost my photos, replicate my projects, remix my ideas, whatever you want as long as you give attribution (a link is fine) and it's noncommercial. Thanks!