Posted on May 17th, 2007 by becket. Filed under Sewing/Fabric Crafts.
Hi – Becket here. Since it's skirt month I thought I would post a skirt I made. I decided to experiment with sewing a skirt that I didn't have a pattern for (Amy helped with this one too!). I wanted a skirt with a low waist but a thick band, which can have a slimming effect (not that it matterns now with my pregnancy body!!!). Then, I wanted it to poof (!) out and hit above the knee. This fabric is from eBay and it's vintage. It's kind of a crazy pattern, but I really liked it. I first considered it for a simple A-line skirt that I did have a pattern for – but I realized that the pattern was simply too buzy and lended itself to a skirt with more body. Also, to break up the pattern a bit, I cut the fabric into large strips and sewed them together (6 strips in all). What really made the difference is that Amy suggested that I use heavy interfacing on the waist band. Now the waistband really holds its shape nicely and doesn't scrunch down with wear. She also is credited with teaching me how to put in a zipper. Thanks again Amy!!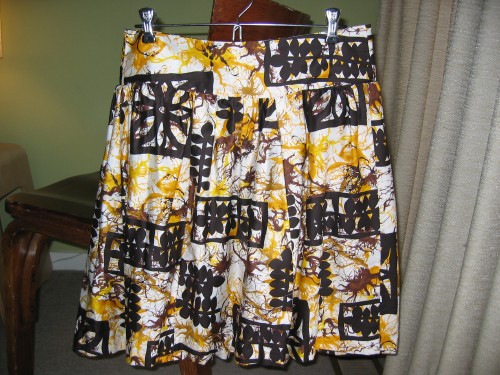 And here is a close-up of the fabric: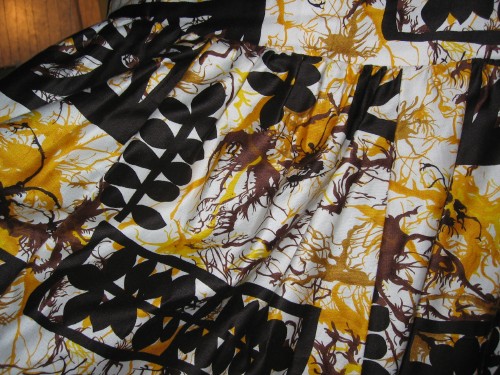 One Response to "Poofy skirt"
lara Says:
August 28th, 2009 at 7:06 am

it looks simply amazing..love the fabric though i would had liked it more if there wasn't that much black..i wish you had posted a pattern for this skirt too..:)
lots of love,
lara
email
maitreya[@]craftlog[.]org
books I'm in
Pinterest
Categories
Blogroll
Archives
creative commons
craftlog is under a
Creative Commons
Attribution Noncommercial
license
. That means that you are all welcome to take and repost my photos, replicate my projects, remix my ideas, whatever you want as long as you give attribution (a link is fine) and it's noncommercial. Thanks!