Posted on May 7th, 2007 by maitreya. Filed under Jewelry, Martha.
With all the cyber-gushing about Martha's new craft line at Michaels, I had to go and see for myself. Yes, it is as good as everybody says. There is seam binding, in a zillion colors. There are cute kits. There are stickers and paper and linen-covered things. I managed to contain my enthusiasm to a few sheets of labels (I am such a sucker for labels) and a pendent kit. The example in the instructions uses a photo, but I used a piece of pretty fabric. It took me longer to decide which fabric to use than to actually make it.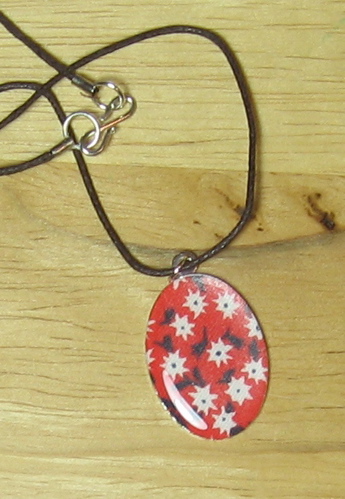 Oh, and comments are back up.
One Response to "Martha pendant"
moki Says:
May 7th, 2007 at 10:28 pm

I didn't see that kit! There was a couple of other missing things too… oh well, I'll have to watch for this one, it's great!
email
books I'm in
other sites I'm on
Pinterest
Categories
Blogroll
Archives
creative commons