Posted on May 30th, 2007 by becket. Filed under Sewing/Fabric Crafts.
Hi -Becket here again. I thought my bed was looking a little boring and needed a little something extra. I already had two lovely pillows from Crate and Barrel that we received as wedding gifts, but I wanted to create another pillow that would coordinate with them and bring in some different colors. The main colors of my bedroom are brown and green – so I really wanted them to be the dominant colors in the pillow.
I kind of like the way it turned out. I used a combination of new and vintage fabrics and I'm especially fond of the little pink flowers in the corner. Hope you think so too!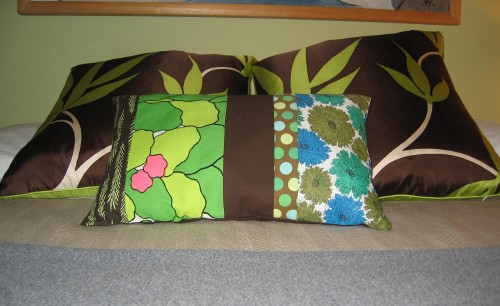 4 Responses to "New bedroom pillow"
email
books I'm in
other sites I'm on
Pinterest
Categories
Blogroll
Archives
creative commons