Posted on May 27th, 2007 by maitreya. Filed under Sewing/Fabric Crafts.
Quick bag made from a new Japanese craft book and a sale bin Anthropologie napkin. I really liked the shape and clever construction: it's just the two sides and a long piece that makes up the sides, bottom, and handle all at once. The bag as shown in the book is unlined, so I came up with a kind of cute workaround where I made all the pattern pieces with lining, interfacing, and outer fabric, sewed them together with half the total seam allowance, and then turned them to make the finished edges. Then sewed the bag together as shown, but with half the seam allowance again. Worked like a charm, although some of the corners aren't as crisp as they might have been otherwise. It worked up in just a couple of hours at Becket's house, who let me raid her fabric stash for the orange lining and the super cute button. Right now the button is just decorative, but after carrying the bag around for a couple days, I think I'm going to add a little loop to keep it from gaping open.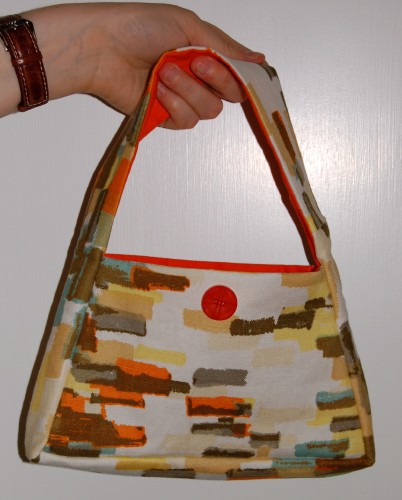 It's just big enough for a wallet, cell phone, and lip gloss. I still have one more napkin and a bit left over from the first one, so I'm thinking a big sister might be called for, using a kind of greeny-blue solid I already have for the lining.
4 Responses to "little handbag"
email
maitreya[@]craftlog[.]org
books I'm in
Pinterest
Categories
Blogroll
Archives
creative commons
craftlog is under a
Creative Commons
Attribution Noncommercial
license
. That means that you are all welcome to take and repost my photos, replicate my projects, remix my ideas, whatever you want as long as you give attribution (a link is fine) and it's noncommercial. Thanks!