Posted on August 6th, 2007 by becket. Filed under Uncategorized.
Hi – this is Becket again. I haven't posted in a while because I recently moved to the SF area. I've been very sad leaving such good friends behind like Maitreya and Amy!! But, between email and Apple iChat (and the blogosphere) I plan to stay connected as ever!
I recently made a baby quilt – this time for my own future baby. I liked the color combo so much on the last quilt I made for a friend at work, that I decided to copy it, but change the overall layout and design. Although this design is more traditional, I'm hoping that the colors and the fabrics give it that much-needed modern edge. Maitreya had the great idea to tie the quilt only on the solid squares. I really like how that looks.
I sewed a long tube of fabric along the back for easy wall-hanging with a wooden dowel. I was thinking of hanging the quilt above the crib. Here I am holding up the quilt proudly in our backyard back East…
Oh, and stay tuned for a post from Maitreya on a BEAUTIFUL quilt she made for my baby – and the really cool technique she used to construct it…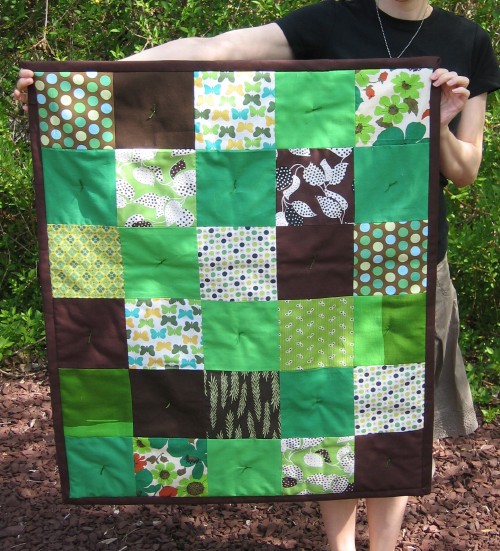 15 Responses to "Baby Quilt – part II"
email
books I'm in
other sites I'm on
Pinterest
Categories
Blogroll
Archives
creative commons