Posted on July 26th, 2007 by maitreya. Filed under Sewing/Fabric Crafts.
I mentioned a while back that I'd sent in my meticulously saved Wrights trim wrappers for my special! offer! as advertised. It came a long time ago, and a nice commenter reminded me that I never posted it. They really do mean it when they say it's a "generous package;" it came in one of those big yellow envelopes. Some of it is fairly awful, like iridescent lace, and lace that appears to be made out of tinsel, and a second type of iridescent lace. But I like enough of it (check the cool bandanna print bias trim) that it was totally worth the $4. In fact, it looks like I've already saved up 3 more wrappers….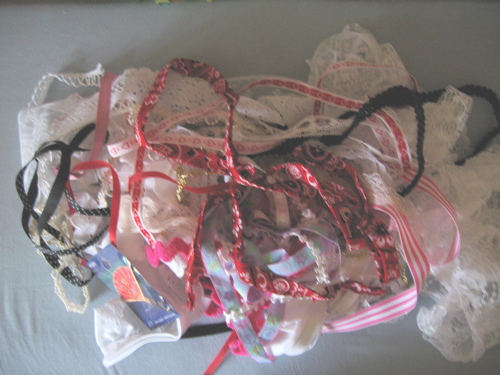 Oh, and the other cool thing that came with it was an order form for the Wrights Factory Outlet. It's crazy, like 15 assorted packs of bias tape for $3.30, and 12 packs of rickrack for $2.75, all discontinued, irregular, or overstocked. I think it's worth an order to find out.
6 Responses to "trim"
email
books I'm in
other sites I'm on
Pinterest
Categories
Blogroll
Archives
creative commons