Posted on August 4th, 2007 by maitreya. Filed under Toys (cat and kid).
Mark's sister and her family were visiting this weekend, and my niece Ellen asked if we could make a stuffed toy for her brother. I gave her all my Aranzi Aranzo books to look through, and she picked out the car pattern, since Karl loves cars. She did almost everything: picked out the fabric, traced the pattern, cut out the pieces, did most of the sewing, stuffed it, glued on the wheels and eyes, and drew the smile. Isn't it just great? And kid's got some good taste in fabric: went right for the Denyse Schmidt.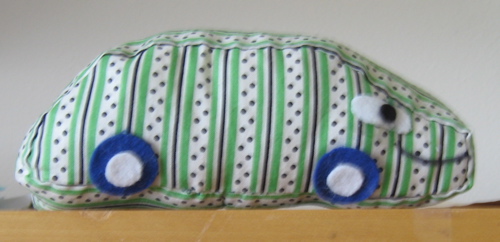 ps. The wheels and pupils were cut from felt with craft punches, using Moonstitches's clever trick of sandwiching the felt between 2 scraps of paper. Worked like a charm and made me wish I had more punches. :)
4 Responses to "Ellen's car"
email
maitreya[@]craftlog[.]org
books I'm in
Pinterest
Categories
Blogroll
Archives
creative commons
craftlog is under a
Creative Commons
Attribution Noncommercial
license
. That means that you are all welcome to take and repost my photos, replicate my projects, remix my ideas, whatever you want as long as you give attribution (a link is fine) and it's noncommercial. Thanks!