Posted on August 21st, 2007 by maitreya. Filed under Cross Stitch/Embroidery.
Home sick today. :/ Playing with my new toys from a Japanese dollar store we randomly found in Flushing makes me feel a little bit better, though. I got some chalk pencils with brushes on the ends, a clever drawstring-threader-thingy, a Hello Kitty paint palette (the fondue plate I'd been using finally got knocked off my desk by the cats), aaaand a spirograph, yay. I still am on the hunt for an old school giant spirograph set with all the accessories, but this little ruler version will do for now. After a few paper trials, I wondered how it would work on fabric. It was too hard on muslin (kept moving around), but iron-on backing gave it enough heft to work like a charm. I'm thinking it would look cute ironed to my jeans back pocket.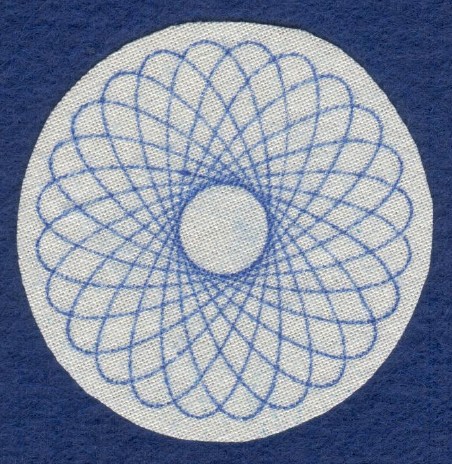 I imagine using iron-on interfacing would also work, then I could just remove it and use like normal fabric. Hmmm. That's not a bad idea. Sudden desire for spirograph trimmed skirt.
Or embroidery! I could embroider over a spirograph. OK, that sounds like the perfect thing to try while watching Enduring Love on DVD. BRB
[fast forward a few hours]
Cool.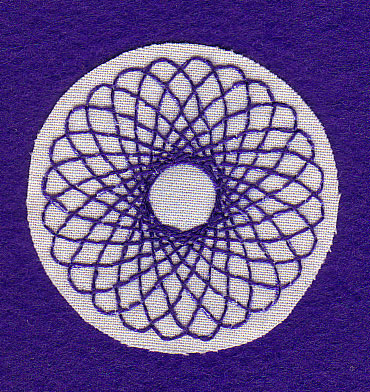 13 Responses to "spirograph patch"
email
maitreya[@]craftlog[.]org
books I'm in
Pinterest
Categories
Blogroll
Archives
creative commons
craftlog is under a
Creative Commons
Attribution Noncommercial
license
. That means that you are all welcome to take and repost my photos, replicate my projects, remix my ideas, whatever you want as long as you give attribution (a link is fine) and it's noncommercial. Thanks!