Posted on August 22nd, 2007 by maitreya. Filed under Martha.
Take a look at Martha's craft room in this month's MSL, and on her website. It makes me want to paint a whole room Martha green. And drawers. I want a bunch of shallow drawers to store stuff. And matching little cubbies for papers and stuff. And a cutting table.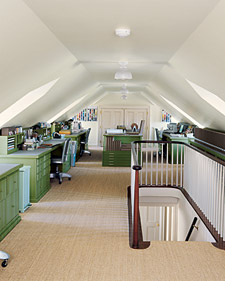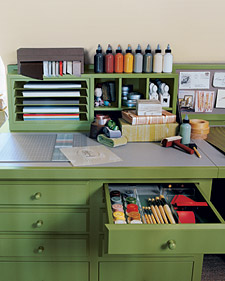 Though the article has what has to be the most disingenuous pull quote ever, regarding some custom napkins made on Martha's smancy embroidery machine, "My guests can't believe that I made them myself!" Martha, I would believe you built the whole damn house with you own two hands. C'mon!
11 Responses to "Martha's craft room"
email
maitreya[@]craftlog[.]org
books I'm in
Pinterest
"Home" is a cotton quilt designed to recall traditional quilt patterns with a dedication to place and our relationship with it. Quilts are often used as a means to tell stories and, whether you're near or far from whatever you place you call home, those stories of home remain connected to us in so many ways. The reverse of the quilt, pieced organically...
Categories
Blogroll
Archives
creative commons
craftlog is under a
Creative Commons
Attribution Noncommercial
license
. That means that you are all welcome to take and repost my photos, replicate my projects, remix my ideas, whatever you want as long as you give attribution (a link is fine) and it's noncommercial. Thanks!