Posted on August 24th, 2007 by maitreya. Filed under Jewelry, Projects with Instructions.
About a year ago I posted some button projects for a book proposal someone solicited. Well, I sent in a set of sample projects and the instructions and a preliminary table of contents, then never heard anything back. Well. I don't have time to write a book anyway (I have plenty of writing to do at lab lately), so I was actually kind of relieved. But it just occurred to me that maybe somebody would actually like to use the instructions I wrote up. You could probably figure most of them out yourself, but I have them, so I might as well post them. Here's the first one, for this stacked button ring: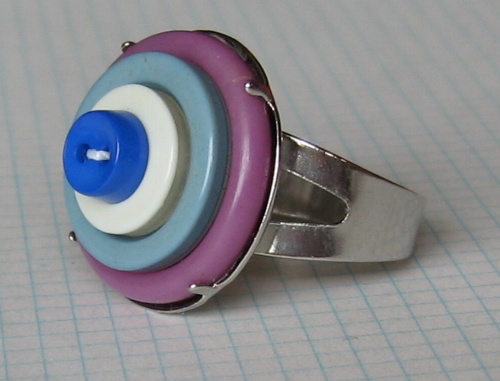 materials
ring base
buttons
thread
quick-set epoxy
time required: 20 minutes plus glue-drying time
Find a button that fits the ring base.
Arrange a stack of buttons of different sizes and colors. Buttons with ridges around the edge work nicely. Doll buttons make a nice top layer.
Sew together the stack.
Glue it into the ring base using epoxy. Make sure it's centered all around and hold it until the epoxy is set. (Go watch this Bat for Lashes video so you're not bored.) Try to prop it level while the epoxy cures.
5 Responses to "Stacked button ring instructions"
email
maitreya[@]craftlog[.]org
books I'm in
Pinterest
Categories
Blogroll
Archives
creative commons
craftlog is under a
Creative Commons
Attribution Noncommercial
license
. That means that you are all welcome to take and repost my photos, replicate my projects, remix my ideas, whatever you want as long as you give attribution (a link is fine) and it's noncommercial. Thanks!