Posted on November 29th, 2007 by maitreya. Filed under Paper Crafts.
I bought this calendar PDF for a whopping $3.99 from A Little Hut. She emailed it right back to me less than 2 hours after I paid, and I promptly printed it out and put a new blade in my exacto knife. It would actually be really pretty as-is even, with dotted lines outlining each letter for each month. The instructions recommend a rather ingenious backing sheet so you can change the pattern, but I cut some of my precious Japanese thick felt to the size of the whole calendar and used that instead. It looks really nice hanging with the peek of orange around the edge. Now to wait until January.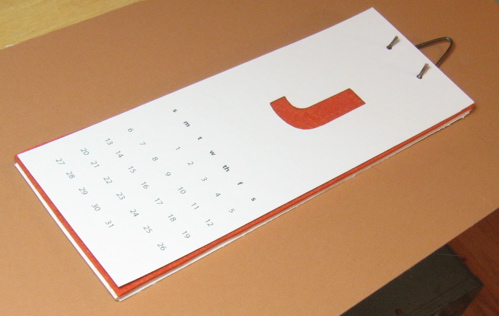 Couple of construction notes for anyone else making this: either my printer is not centered exactly or you aren't supposed to cut directly down the center of each sheet (or I am hypersensitive to my margins being precisely equal on each side). Also, cutting a 6 inch piece of wire from a clothes hanger is harder than it first would seem. Finally, I didn't like the "stencil" look of the letters with holes in them, so I just left large empty spaces which actually look rather cool.
4 Responses to "cutout calendar"
email
maitreya[@]craftlog[.]org
books I'm in
Pinterest
This recipe with white beans is probably my favorite farro salad yet. The creamy beans play a huge role in that, along with the sweet tender leeks and fresh parsley. But it's the chunks of salty, citrusy preserved lemon, a condiment often used in Moroccan cooking, that really takes this salad to the next level.
Categories
Blogroll
Archives
creative commons
craftlog is under a
Creative Commons
Attribution Noncommercial
license
. That means that you are all welcome to take and repost my photos, replicate my projects, remix my ideas, whatever you want as long as you give attribution (a link is fine) and it's noncommercial. Thanks!