Posted on December 9th, 2007 by maitreya. Filed under Toys (cat and kid).
Becket got me the Softies book for my birthday, so it seemed only fair to make her daughter a toy from it for Christmas. I couldn't decide between the funny whale and the treeling, so I had Mark break the tie. The pattern is by the great littleoddforest, and you can also get it for free from the Craft podcast. I think it turned out great, and it was fun to make. Pulling all the leaf topthreads through to the back and tying them in knots took a while, but I was watching my early present from Mark, the Twin Peaks Gold Box, anyway and needed something to justify watching one… more… episode.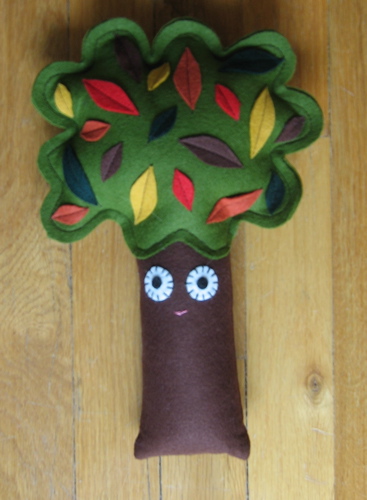 4 Responses to "treeling"
email
maitreya[@]craftlog[.]org
books I'm in
Pinterest
Categories
Blogroll
Archives
creative commons
craftlog is under a
Creative Commons
Attribution Noncommercial
license
. That means that you are all welcome to take and repost my photos, replicate my projects, remix my ideas, whatever you want as long as you give attribution (a link is fine) and it's noncommercial. Thanks!