Posted on January 4th, 2011 by maitreya. Filed under Crochet.
Here's a post from the wayback files: I wrote the draft in 2007!  I have a bad habit of forgetting to take pictures of gifts I've made.  I was at my sister's house over Christmas and got a chance to take an action shot for this poor forsaken post.
Back in September I made a post complaining about my inability to knit a chevron scarf. Well who needs knitting anyway! Crochet was made for ripples. This has been my airplane project, with a plastic hook since I got a metal one confiscated by security this summer :( It's made with a self-striping sock yarn, gotten back when I had delusions of knitting socks. I started with a basic ripple pattern from an old crochet pattern book from the library and modified it to end on a half repeat to better match the dye spacing of the yarn. It's not perfectly even stripes, but it was a hell of a lot easier than changing yarns. Anyway, it's for my sister.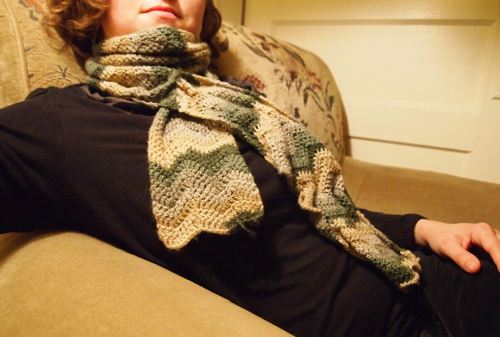 2 Responses to "ripple scarf"
Holly Says:
January 6th, 2011 at 5:21 pm

Oooh! I love! I've never used sock yarn because making socks terrifies me. I really like the scarf. What's the basic pattern?
email
maitreya[@]craftlog[.]org
books I'm in
Pinterest
Categories
Blogroll
Archives
creative commons
craftlog is under a
Creative Commons
Attribution Noncommercial
license
. That means that you are all welcome to take and repost my photos, replicate my projects, remix my ideas, whatever you want as long as you give attribution (a link is fine) and it's noncommercial. Thanks!