Posted on December 26th, 2007 by maitreya. Filed under Experiments, Jewelry, Resin.
My sister got me casting resin for Christmas, and boy did we have a fun time with it. Look at all this stuff we made. I've been wanting to try resin for a while (ye olde craftlog archives say since 2004!), and it is as fun and cool as I'd hoped. Comment with any favorite/inspirational resin links because I'm definitely hooked.
We tried all sorts of stuff for molds, and shockingly everything worked except for a tiny petri dish (I have a feeling a larger petri dish might still work because it's more flexible), a very rigid contact lens case, and a thin plastic candy mold (which sort of worked except that I had to destroy the mold to get the thing out, see below). No mold release for anything, though 15 minutes in the freezer helped considerably for some of them.
My favorite one, a piece of Japanese fabric in a ~1.5×2 inch mold. Kind of Amy Ruppel-ish, no?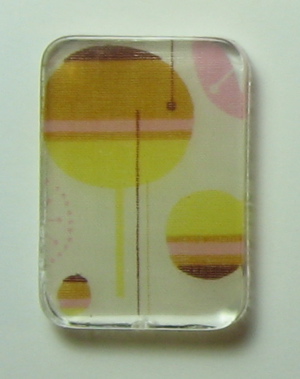 My favorite one that Ariel made, a zombie in a ~.5x.75 inch dollar store pill box mold with fabric background and a vintage model railroad figurine.
The pill boxes were really good molds. This one has a piece of washi paper embedded.
And these ones are buttons. Ariel is going to make a bracelet from them.

Another good mold idea I got from Crafters Coast to Coast is a plastic paint palette. The embeds are a carefully cut out fabric flower and a 1 inch punch from my 2007 Snow and Graham calendar. I am in love with the fabric flower.
plastic flowers
A candy mold with a plastic flower embed. The resin kind of melted or reacted or who knows what with the mold and I had to cut it off. Because of this, the surface is not as smooth as the others, but I think it'll look great after some sanding.
My mom also got me a box of chalk pastels to use for coloring. They seemed to work, though I have to pay better attention to adding only really fine dust. There are a few clumps or bigger pieces in them. The cubes have one layer clear, one layer colored, but it's hard to see. I think if I pour them deeper next time they'll look super cool, kind of like plastic versions of P1 Unless Otherwise Noted's awesome glass jewelry. The upper left one was molded in a contact lens case and you can see the starburst pattern in it. It looks like a piece of candy.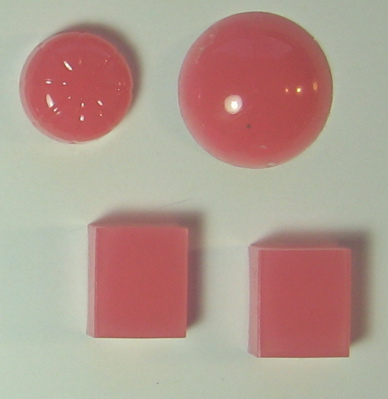 Now to drill holes in them all. :)
42 Responses to "fun with resin"
email
maitreya[@]craftlog[.]org
books I'm in
Pinterest
Categories
Blogroll
Archives
creative commons
craftlog is under a
Creative Commons
Attribution Noncommercial
license
. That means that you are all welcome to take and repost my photos, replicate my projects, remix my ideas, whatever you want as long as you give attribution (a link is fine) and it's noncommercial. Thanks!