Posted on January 30th, 2008 by amy. Filed under Sewing/Fabric Crafts, Toys (cat and kid).
Hello there – Amy here. I made these Denyse Schmidt kitties for Becket's baby shower: Papa, Mama, and Baby, from the "Steve" pattern.
Baby kitten was 1/3 smaller than Papa and Mama and made of a lovely wool felt contributed by Maitreya. Turning those arms and legs from felt was a bit tough!! You might recognize Papa's ears and tummy from other Craftlog projects, a piece of material Becket used in her very first sewing project, which also made an appearance in the Baby Shower Pocket Quilt. Other trimmings came from Maitreya's terrific collection, and from one of my excursions to MJ Trimmings. The button eyes were from The Great Philadelphia Button Haul (and mean that these kitties are shelf toys rather than for baby).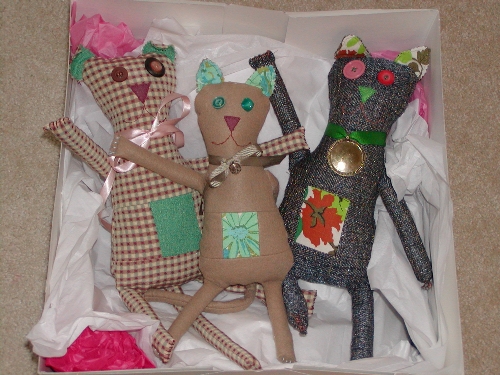 15 Responses to "A Trio of Kitties"
email
maitreya[@]craftlog[.]org
books I'm in
Pinterest
This recipe with white beans is probably my favorite farro salad yet. The creamy beans play a huge role in that, along with the sweet tender leeks and fresh parsley. But it's the chunks of salty, citrusy preserved lemon, a condiment often used in Moroccan cooking, that really takes this salad to the next level.
Categories
Blogroll
Archives
creative commons
craftlog is under a
Creative Commons
Attribution Noncommercial
license
. That means that you are all welcome to take and repost my photos, replicate my projects, remix my ideas, whatever you want as long as you give attribution (a link is fine) and it's noncommercial. Thanks!