Posted on April 11th, 2008 by maitreya. Filed under Fun with Lab Supplies, Jewelry, Resin.
I'm moving to Seattle in a month, so one of the many things on the todo list is to use up all my unshippable resin. What a good idea for a craft night. :) Besides these ones, we also embedded buttons and coins, and I played around with layering colors with only slightly better results than last time. I'm mainly having trouble getting a flat first layer. Anyway, these are my favorites from the night:
My friend Matt embedded some bits from a circuit board. I like the LEDs best.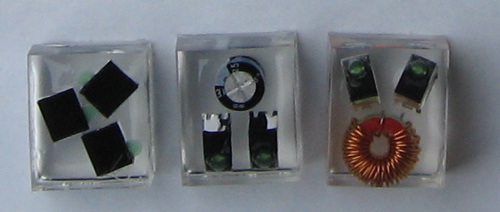 Another great model railroad figure one made by my friend Dannie. I love the composition.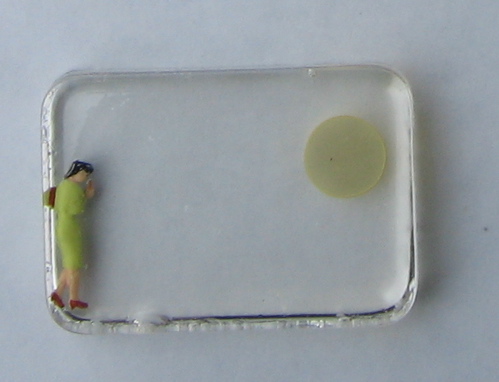 Creepy little Mizna Wada girls from some stationery.
I really like these, colored with pastels and molded with a 96-well plate (finally found one flexible enough!) I have plans for necklaces and rings with these, if I can ever find any ring blanks I like.
These are some silver findings from a bead store. They have little holes on each side, which are too small for the resin to leak from; I didn't think to put a headpin through the hole until I'd already poured in the resin. :P
8 Responses to "more resin"
email
maitreya[@]craftlog[.]org
books I'm in
Pinterest
Categories
Blogroll
Archives
creative commons
craftlog is under a
Creative Commons
Attribution Noncommercial
license
. That means that you are all welcome to take and repost my photos, replicate my projects, remix my ideas, whatever you want as long as you give attribution (a link is fine) and it's noncommercial. Thanks!