Posted on April 17th, 2008 by maitreya. Filed under Sewing/Fabric Crafts.
I made Amy a shoulder bag for her birthday a while back. The outside fabric is a tablecloth from Ikea that I absolutely adore. Luckily there's a bunch of it left so I can make more stuff from it. Because it's a plasticy coated fabric, I didn't want to have lots of bulk at the seams, and I was worried my machine would stick on it, so that gave me the idea of using seam binding for the whole thing. I cut cross shapes from the tablecloth and the lining fabric (if I make another one, I'll also add a layer of interfacing), folded the edges up to meet and form the sides, and enclosed the raw edges with the binding. I love how it turned out, and it was remarkably easy (well, except for the part where I realized I couldn't bind the top edge with the sides already bound, but that wasn't too hard to fix). The handles are the same ones that Becket used for her pleated purse; they're from Tall Poppy (if you get them, don't forget the rivets). The lining fabric is a nice dark green cotton.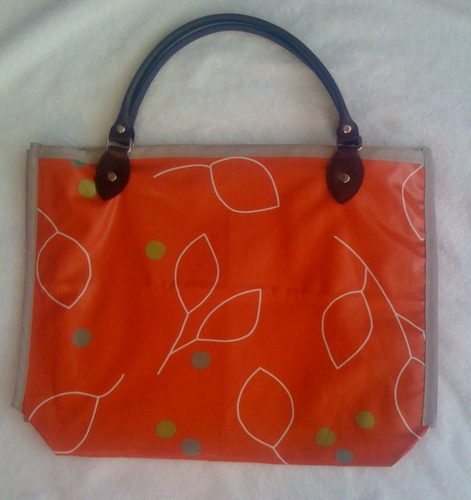 2 Responses to "shoulder bag"
email
maitreya[@]craftlog[.]org
books I'm in
Pinterest
Categories
Blogroll
Archives
creative commons
craftlog is under a
Creative Commons
Attribution Noncommercial
license
. That means that you are all welcome to take and repost my photos, replicate my projects, remix my ideas, whatever you want as long as you give attribution (a link is fine) and it's noncommercial. Thanks!