Posted on May 19th, 2008 by maitreya. Filed under Jewelry, Resin.
I wasn't kidding when I said I had half a container of resin to use up before moving. I'm going to drag out posting everything or else it'll be a huuuge entry. Oh, and I am now living in Seattle, so any local peeps who might like to be craft friends, drop me an email. I have to say I'm liking the scene here so far; in 2 days, I've randomly stumbled on a big street/craft fair, a weaving supply store with a ton of roving and other goodies, and a quilting store with a reasonably good selection. Also, several indie designer shops.
I am upset to move away from my craft night buddies, though. I made resin jewelry as goodbye presents for everybody.
All scientists love graph paper. In fact, over dinner at the last craft night, we had an entire conversation comparing brands of engineer pads and lamenting the discontinuation of our favorite brand of rectangle-gridded paper (immortalized in resin on the bottom left). Very sad. The nonscientists in the bunch thought we were crazy. :P These were molded in a paint palette and then I dremel-drilled a hole in each one and added a jump ring to make necklaces. The ones with numbers are funny because some of them turned translucent in the resin so the numbers from the back show through and make little weird looking patterns (top row middle, for example).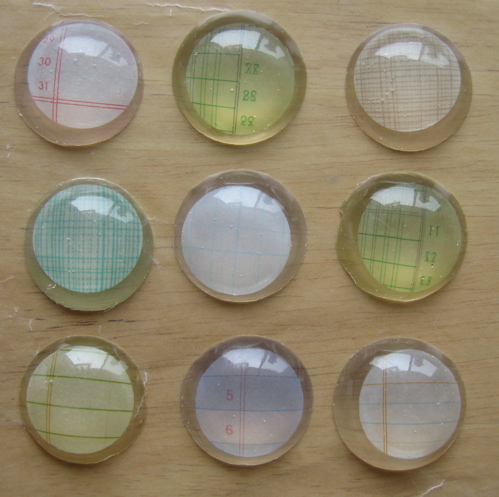 These are more 96-well plate molded plugs. Amy had some great deep-well plates that I used for the larger ones. Tinted with pastels and also dremelled for necklaces. They look really cute on.
One of the plugs sanded down and glued into a bezel cup, then to a ring blank.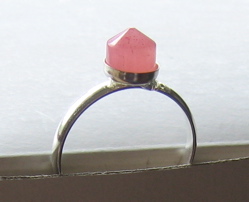 Other lab-related ones I didn't give away:
Molded with part of the lid of a 96-well plate. You can even seen the little numbers embossed on the lids. I had a few other experiments with the lid, but they failed spectacularly. I like the effect enough that I'll probably try it again, though. Looks like a lego, but it a little curved because of how I had it squished into the little mold.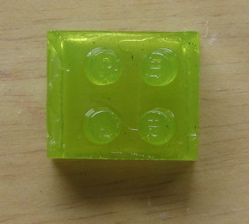 Molded inside lab tubing. I am really eager to see how these look as bracelets and necklaces.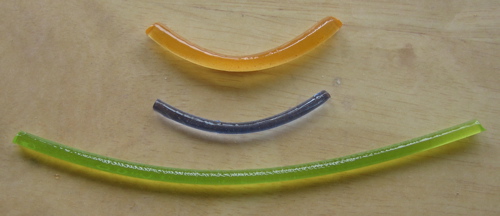 6 Responses to "sciencey resin jewelry"
email
maitreya[@]craftlog[.]org
books I'm in
Pinterest
Categories
Blogroll
Archives
creative commons
craftlog is under a
Creative Commons
Attribution Noncommercial
license
. That means that you are all welcome to take and repost my photos, replicate my projects, remix my ideas, whatever you want as long as you give attribution (a link is fine) and it's noncommercial. Thanks!