Posted on May 25th, 2008 by maitreya. Filed under Resin.
Last of the resin for a while, I promise.
Bezel cups. The first one was colored with a bit of fluorescein, a dye that glows under blue light. I haven't had a chance to test it yet.

Weird little mold that was originally filled with Hello Kitty stickers. Blythe-scale lime jello.
Another little guy and some tiny erasers I've had since I was a kid.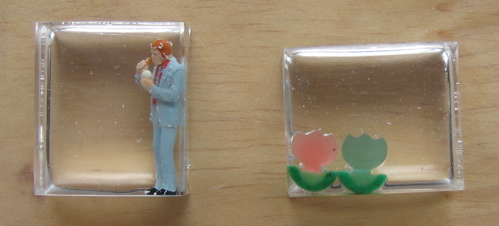 Center of my paint palette filled with buttons! Not sure what to do with it.
7 Responses to "resin miscellany"
email
maitreya[@]craftlog[.]org
books I'm in
Pinterest
Categories
Blogroll
Archives
creative commons
craftlog is under a
Creative Commons
Attribution Noncommercial
license
. That means that you are all welcome to take and repost my photos, replicate my projects, remix my ideas, whatever you want as long as you give attribution (a link is fine) and it's noncommercial. Thanks!