Posted on July 4th, 2008 by maitreya. Filed under Sewing/Fabric Crafts.
I'm planning on some sewing over the long weekend, and realized that I never posted my shirt that I finished a long time ago. It's BBY-4112 Shirt Pattern from Built By Wendy. The short sleeves+bias trim are shamelessly stolen from Angry Chicken. I was able to get through the pattern without too much problem, but the fit was really disappointing. With a huge amount of help from Amy and Becket, I reset the collar (it was too big and set too high or something, which made it all droopy when tied), shortened it, and added shaping both in front and back. It looks kind of shapeless on the hanger, but it fits pretty well now. I think it was such an ordeal that I have never actually worn it. Weird. Looking at it again now, though, maybe I'll go back to liking it.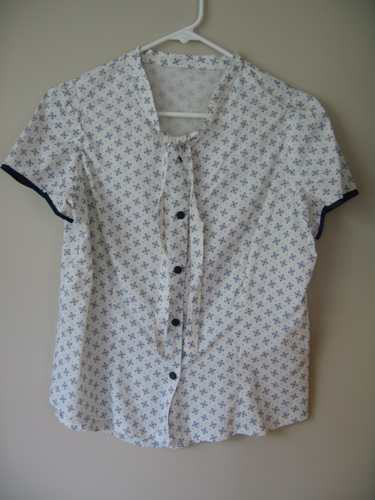 One Response to "Built By Wendy Shirt"
dorie Says:
July 6th, 2008 at 4:35 pm

It looks really cute! I love your fabric. I have to admit that I understand that I'm-so-annoyed-I-can't-wear-it feeling though. I have felt it.
email
books I'm in
other sites I'm on
Pinterest
Categories
Blogroll
Archives
creative commons