Posted on September 14th, 2008 by maitreya. Filed under Projects with Instructions, Sewing/Fabric Crafts.
The top of my dresser is a disaster area, so this weekend's goal was to reinstate order. I'd been putting it off until I bought some little bins to toss stuff, but I finally gave up and made some. Same pattern as this one and this other one out of this Japanese craft book, but you hardly need a pattern they're so easy. Cut out a cross shape (the square in the middle is the final box size, and the lengths of the "legs" will be the height), bind the edges, zigzag up the corners, turn inside out, and press into shape. Oh, and I also sewed a straight line at the base of each leg to help encourage it to fold. I made them assembly-line style. The bigger ones are 2 layers of felt welded together for a little extra wall integrity.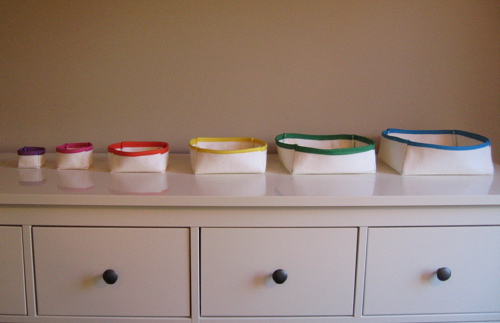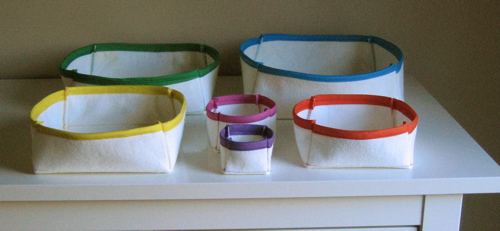 They are fun to take pictures of.
5 Responses to "nesting felt boxes"
email
maitreya[@]craftlog[.]org
books I'm in
Pinterest
This recipe with white beans is probably my favorite farro salad yet. The creamy beans play a huge role in that, along with the sweet tender leeks and fresh parsley. But it's the chunks of salty, citrusy preserved lemon, a condiment often used in Moroccan cooking, that really takes this salad to the next level.
Categories
Blogroll
Archives
creative commons
craftlog is under a
Creative Commons
Attribution Noncommercial
license
. That means that you are all welcome to take and repost my photos, replicate my projects, remix my ideas, whatever you want as long as you give attribution (a link is fine) and it's noncommercial. Thanks!