Posted on September 23rd, 2008 by maitreya. Filed under Crafty Links.
Becket, my friend and occasional craftlog poster, has started her own blog! It's called California Crafter and it's pretty much super.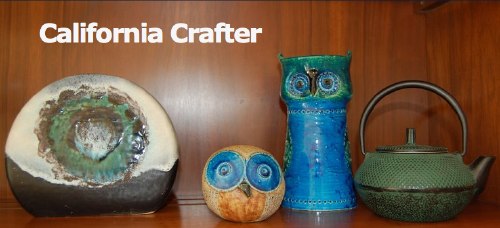 Seeing her fresh new blog has also finally inspired me to fix my stupid layout. Somewhere all my kludgey css cut-and-pasting went wrong and the site apparently looked awful on Internet Explorer, which 43% of craftlog visitors use according to my sitemeter stats. (Really? That many people still use IE? Huh.) Anyway, Mark's convinced me that WordPress is the way to go instead of starting over in Movable Type, so here's my new stripped-down style. Please comment if you notice things start breaking. The links and RSS feed and everything should still be the same.
Oh, and can anyone recommend some sort of library widget to keep track of my craft books? Right now I'm doing it by hand, which means it essentially never gets updated.
2 Responses to "Becket started a blog!"
Lee Burnham Says:
September 26th, 2008 at 9:35 am

I too would LOVE a way to keep track of my quilting books. I live in fear of shelling out money for one I already have. And I can never FIND the one I want. I will await replies.

Natalie Says:
October 26th, 2008 at 8:33 am

Hi, I found your blog through whip up. I use goodreads.com to keep track of the books I've been reading. They have a pretty easy widget that doesn't take too much time or energy. Good luck!
email
maitreya[@]craftlog[.]org
books I'm in
Pinterest
This recipe with white beans is probably my favorite farro salad yet. The creamy beans play a huge role in that, along with the sweet tender leeks and fresh parsley. But it's the chunks of salty, citrusy preserved lemon, a condiment often used in Moroccan cooking, that really takes this salad to the next level.
Categories
Blogroll
Archives
creative commons
craftlog is under a
Creative Commons
Attribution Noncommercial
license
. That means that you are all welcome to take and repost my photos, replicate my projects, remix my ideas, whatever you want as long as you give attribution (a link is fine) and it's noncommercial. Thanks!