Posted on October 26th, 2008 by maitreya. Filed under Jewelry, Sewing/Fabric Crafts, Uncategorized.
I only finally got around to visiting the Kinokuniya bookstore in Seattle. Some nice reader had sent me a photo a long time ago of the craft section of the store, which had a sign advertising Crafting Japanese. It's still up! In giant letters! And they were having a 10% off everything sale! So I got a few new books, including some really awesome felt books.
This felt cuff is from ISBN 9784579111152, and is also inspired by the final collection of Project Runway winner Leanne. I liked her all along, so I was happy to see her win. My first attempt at handsewing the aqua wavey-pom thingy was a miserable failure. I wasn't even going to reattempt it, but Amy and Becket are visiting this week and helped me figure out v2: machine + handsew, with fewer layers, which worked way better. The thick cream felt is a scrap of the piece I got in Japan, last used for the felt sewing box.
The version in the book hooked with buttons and loops, but I used elastic instead. Action shot: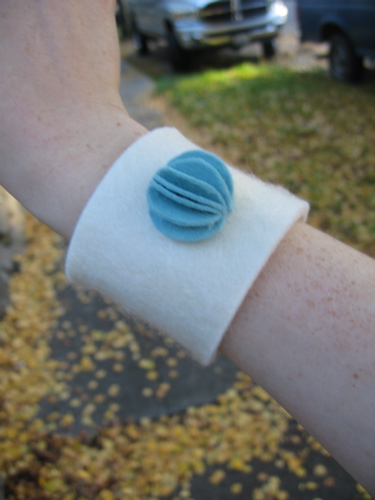 2 Responses to "Leanne felt cuff"
email
maitreya[@]craftlog[.]org
books I'm in
Pinterest
Categories
Blogroll
Archives
creative commons
craftlog is under a
Creative Commons
Attribution Noncommercial
license
. That means that you are all welcome to take and repost my photos, replicate my projects, remix my ideas, whatever you want as long as you give attribution (a link is fine) and it's noncommercial. Thanks!