Posted on October 26th, 2008 by maitreya. Filed under Jewelry, Sewing/Fabric Crafts, Uncategorized.
I only finally got around to visiting the Kinokuniya bookstore in Seattle. Some nice reader had sent me a photo a long time ago of the craft section of the store, which had a sign advertising Crafting Japanese. It's still up! In giant letters! And they were having a 10% off everything sale! So I got a few new books, including some really awesome felt books.
This felt cuff is from ISBN 9784579111152, and is also inspired by the final collection of Project Runway winner Leanne. I liked her all along, so I was happy to see her win. My first attempt at handsewing the aqua wavey-pom thingy was a miserable failure. I wasn't even going to reattempt it, but Amy and Becket are visiting this week and helped me figure out v2: machine + handsew, with fewer layers, which worked way better. The thick cream felt is a scrap of the piece I got in Japan, last used for the felt sewing box.
The version in the book hooked with buttons and loops, but I used elastic instead. Action shot: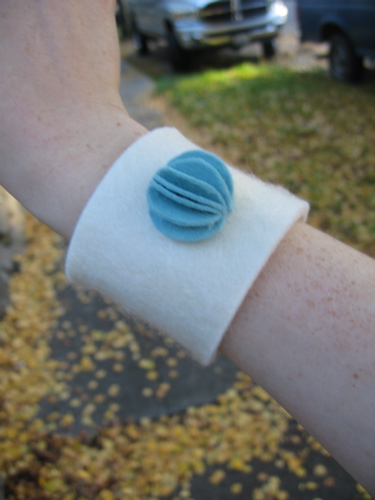 2 Responses to "Leanne felt cuff"
email
books I'm in
other sites I'm on
Pinterest
Categories
Blogroll
Archives
creative commons