Posted on November 17th, 2008 by maitreya. Filed under Holiday, Jewelry, Martha.
My favorite Martha Stewart issue of every year came this week. Yay, ornament crafts. There's a pretty good spread on doily crafts, one of which is a bunch of doilies treated with fabric stiffener and strung in a garland. I wanted to recreate it, but I didn't feel like getting doilies. Instead I used this funny pillowcase I bought at Ikea a few years ago. The pattern looks like papercut snowflakes. I cut out a bunch and saturated them with Stiffy (lol), blotted the excess, and let them dry on freezer paper. They wrinkled up a bit as they dried, so I ironed them afterward (between sheets of paper, because who knows what that junk would do to an iron). Strung them on sparkly crochet thread I had around, and what a cute garland for the front window. I think I will make a second one to go right next to it.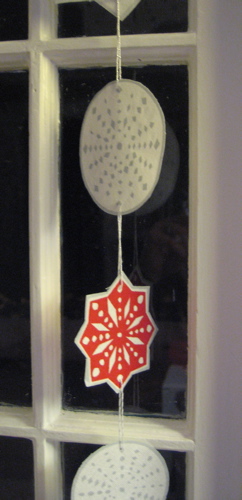 While I was laying them out, I could tell some of the little snowflakes were going to be too small for the garland and scrunched them out of the way. When they dried, they made these neat bell shapes that I thought would look cool as a necklace. I only had a few that turned out nice, so the last thread end is 2 dots also cut from the fabric pattern and glued back-to-back. While I was threading them onto the waxed twine, I realized the similarities to the blissen fabric flower necklaces. Now I feel bad about being a copy cat :/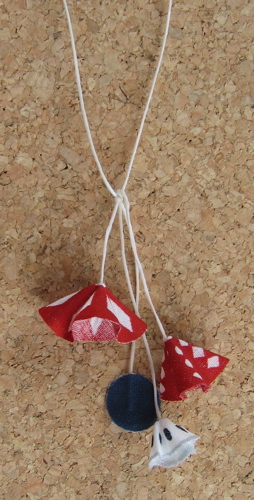 4 Responses to "fun with fabric stiffener"
email
maitreya[@]craftlog[.]org
books I'm in
Pinterest
This recipe with white beans is probably my favorite farro salad yet. The creamy beans play a huge role in that, along with the sweet tender leeks and fresh parsley. But it's the chunks of salty, citrusy preserved lemon, a condiment often used in Moroccan cooking, that really takes this salad to the next level.
Categories
Blogroll
Archives
creative commons
craftlog is under a
Creative Commons
Attribution Noncommercial
license
. That means that you are all welcome to take and repost my photos, replicate my projects, remix my ideas, whatever you want as long as you give attribution (a link is fine) and it's noncommercial. Thanks!