Posted on November 27th, 2008 by maitreya. Filed under Cross Stitch/Embroidery, Holiday, Projects with Instructions.
I entered the annual ornament swap run by freshlyblended and cake & pie. It's going through swap bot this year, which I am not a huge fan of, having done a couple of swaps through there. In one, someone accused me of purchasing the pinecone ornament I made, and in the other I was called "rude" for not replying to an email right away. The "rude" comment was even made using my last name, which is seriously not cool. Hopefully nicer people signed up for the ornament swap.
Anyway, my idea this year is machine embroidery on thick felt. My machine doesn't have any of the fancy decorative stitches, but the weird useful stitches look pretty cool anyway. Here are the prototypes.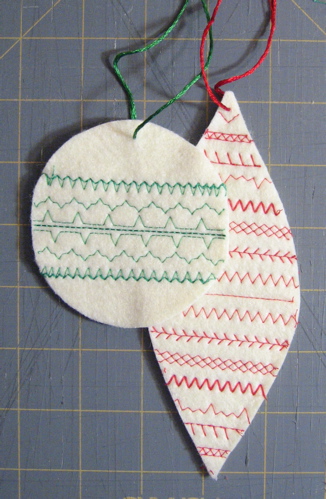 I think I like the band on the ball one better than the all over pattern of the long one, so I'll probably do them all that way. Less is more. What's awesome is that these are crazy easy to mass produce. In case anyone else wants to try them, here are instructions (though you can probably figure it out yourself).
cut a strip of thick felt as tall as your ornament and as long as you want.  The beauty of this is you embroider them all at once and cut them apart at the end.  As for the felt, I just got a swatchpack from fitzfelt and they are awesome. They also sell precut rounds if you're a perfectionist like that.  I also made a post on whipup a while back with thick felt suppliers.
using contrasting thread, sew a straight stitch down the middle of the strip, longways. I did a tension test on a scrap first since the felt is so thick. For bonus reversibility, put a different color in the bobbin thread.
sew decorative stitches on either side of the central stitch, keeping everything parallel as best you can. I made mine symmetrical above and below the equator, but you don't have to. What with variations in stitch length, width, style, and spacing, there's pretty much infinite combinations here.
for the circles, I pressed a cookie cutter hard onto the felt to make a guide impression to cut around. For the long ones, I used a rotary cutter and eyeballed it. Once you've done one side, you can use the scrap as a template for the other side.
Make an embroidery thread hanger.
The one thing I'm worried about is that the stitches aren't secured and they might pull out. Since the ornaments won't really be handled, I decided it probably won't matter.
If instead of making your own, you'd like to swap me for one, send me an email (maitreya@craftlog.org). I love all my collected handmade ornaments from swaps. :D
12 Responses to "sewing machine sampler ornaments"
email
maitreya[@]craftlog[.]org
books I'm in
Pinterest
This recipe with white beans is probably my favorite farro salad yet. The creamy beans play a huge role in that, along with the sweet tender leeks and fresh parsley. But it's the chunks of salty, citrusy preserved lemon, a condiment often used in Moroccan cooking, that really takes this salad to the next level.
Categories
Blogroll
Archives
creative commons
craftlog is under a
Creative Commons
Attribution Noncommercial
license
. That means that you are all welcome to take and repost my photos, replicate my projects, remix my ideas, whatever you want as long as you give attribution (a link is fine) and it's noncommercial. Thanks!