Posted on December 19th, 2008 by maitreya. Filed under Knitting.
My friend Amy got me some nifty yarn made from the scraps of silk leftover from sari production.  It's got all these beautiful jewel colors in it.  I thought my mother in law might like it, so I used 2 of the skeins to knit a plain garter stitch scarf for her.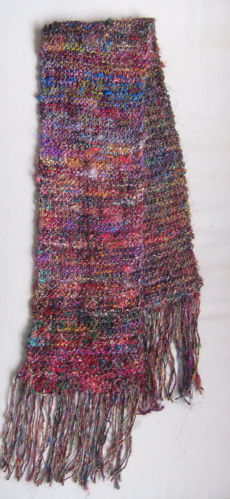 Got to use my pretty green vintage knitting needles I picked up a while back.  Nice tools always make crafting more fun.
2 Responses to "sari scarf"
email
books I'm in
other sites I'm on
Pinterest
Categories
Blogroll
Archives
creative commons