Posted on December 24th, 2008 by amy. Filed under Holiday.
I arrived home in Ohio with carry-on luggage only.  A day later, I was met by the box of gifts I shipped ahead.  I didn't do much crafting for gifts this year (though I can't wait to see what Maitreya has made!), but my mom and I really had fun using odds and ends and "recycled" wrap to decorate our packages. I really liked the green and magenta combination we pulled together for the gift bag.  A sprig of "evergreen" stapled to the bag dressed it up.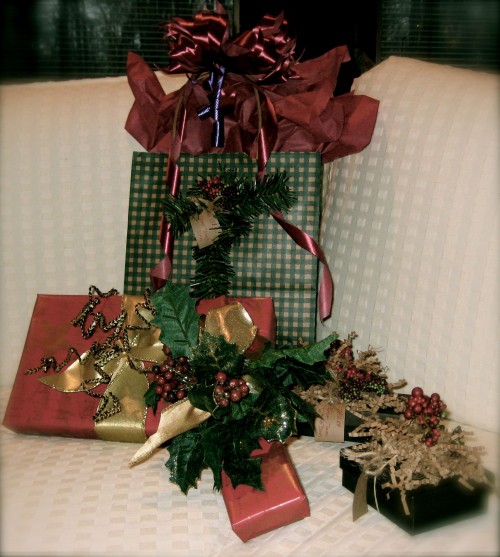 Mom had purchased two lovely Paul Strauch bronze doorbells for family members, they came in pretty chocolate brown boxes too nice to wrap. Instead, we sprunched together some crinkly brown paper shreds (rescued from a package last year) along with a sprig of silk "berries" leftover from last year's Christmas wreath and tied it all with a bit of raffia.
A bit of leftover silk holly brightened up a necklace box, and coordinated with the red and gold paper. This was the last 8 inches of gold ribbon on the roll!
One Response to "Christmas Packages"
email
books I'm in
other sites I'm on
Pinterest
Categories
Blogroll
Archives
creative commons