Posted on February 20th, 2009 by maitreya. Filed under Fun with Lab Supplies, Resin.
Testing out some new molds.
Candy molds take 2, including the owl and buttons from my previous post and some vintage ones my sister got me for Xmas.  The vintage ones and the hard candy button one were the clear winners, since both popped right out without destroying the mold.  This one has a lace cutout in it.  It'll be a necklace, I think.
The owl and little buttons had to be torn out of their molds, but at least they worked.  I'm going to try some sort of mold release next time to see if I can avoid destroying the mold.
I don't like the sickly green color, though. :/
The orange turned out better.
Pill box.  It's one of those circular ones with a segment for each day of the week.  Piece of origami paper embedded.  This one might be my favorite since it's the most wearable.  This mold worked great; I didn't even have to put it in the freezer.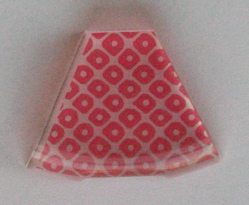 Weird ice cube tray I found at a thrift store.  Actually, I just used the caps; the tray itself was these long tubes.  I have a couple more funny thrifted ice cube trays that I'm saving for later.  These ones are embedded buttons with thumbtacks to match my new corkboard.  I also did a few colored disks to mess with for rings or something. Not happy with the mold; they're still all sticky for some reason, and there's a leftover residue.  I also broke one manhandling it out of the mold.
Little plastic case from a free sample from Origins.  I've also seen them at the Container Store for travel.  Embed is a big white button.  I'm planning a set of different white embeds in this size to use as knobs for my dresser.  This one also worked really well, which I was expecting since I have another one in a different size that worked before (apparently I never posted a picture, though).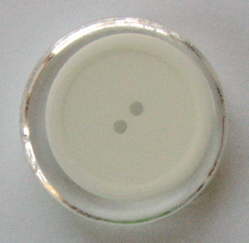 Other molds that worked, but were too plain to bother taking a picture of: cubes from a freezer box and triangle from a multichannel pipet basin, both free samples from lab.  I have another style of pipet basin too, with sharper corners, that I might try out next time.  Not sure what to do with the results, though.
Things that didn't work: little plastic domes from a seed germination kit.  I had to tear it off, and the resin reacted with the plastic to make a weird frosted effect.  Double fail: the embed I tried was a piece of thicker, shiny paper.  It didn't saturate uniformly and looks pretty bad.
6 Responses to "new resin molds"
email
maitreya[@]craftlog[.]org
books I'm in
Pinterest
Categories
Blogroll
Archives
creative commons
craftlog is under a
Creative Commons
Attribution Noncommercial
license
. That means that you are all welcome to take and repost my photos, replicate my projects, remix my ideas, whatever you want as long as you give attribution (a link is fine) and it's noncommercial. Thanks!