Posted on August 29th, 2009 by maitreya. Filed under Experiments, Sewing/Fabric Crafts.
One reason the doll patterns in Parasol were so appealing is that I've been working on another printed doll project on and off for the last couple of weeks.  The idea sounded ok at the time: my friend Becket's daughter just turned 2.  She loves the family kitty, Jamie, but Jamie does not feel the same way about her.  So I was going to make her a Jamie doll she could manhandle as much as her little heart desired.  The idea is modeled after these pillows on Craftster (sadly, the pictures have disappeared, but trust me, they were awesome) and this cat stuffy by Wisecraft.
Perfect opportunity to try out the Bubble-Set-Jet I bought a while back.  I had even gone so far as to presoak some muslin panels, so it was printer-ready.  Here's where the plan started to go awry: instead of asking Becket for her best high-res picture of Jamie, I wanted it to stay a surprise and downloaded a picture off her blog instead.  Then I erased the background in a graphics program and printed him out as big as my large-scale printer could do, which was close to life size.  (One cute tip for running fabric through the printer: stick sheets of printable labels to back the fabric so it feeds smoothly through the printer.  I've also ironed on to freezer paper, but didn't have any around.)
Before:
After sewing around him (backing was the background fabric in the photo, a nice corduroy I got in Australia a few years ago), he looked really bad, though.  It's partly because I didn't leave enough seam allowance, and I should've made him rounder instead of following the profile.  But I think the main problem is the photo is too pixelated and low contrast and not a good profile.  Mark's first reaction was "where's his head?  He just looks like a gray blob.
After: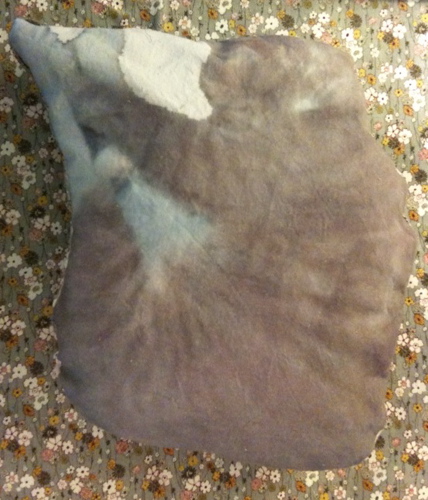 OK, well, lesson learned.  Off to plan B.
fwiw, I was pretty happy with how well the Bubble-Jet-Set worked.  Very little ink washed out, and there was no obvious bleeding.
email
maitreya[@]craftlog[.]org
books I'm in
Pinterest
This recipe with white beans is probably my favorite farro salad yet. The creamy beans play a huge role in that, along with the sweet tender leeks and fresh parsley. But it's the chunks of salty, citrusy preserved lemon, a condiment often used in Moroccan cooking, that really takes this salad to the next level.
Categories
Blogroll
Archives
creative commons
craftlog is under a
Creative Commons
Attribution Noncommercial
license
. That means that you are all welcome to take and repost my photos, replicate my projects, remix my ideas, whatever you want as long as you give attribution (a link is fine) and it's noncommercial. Thanks!