Posted on August 31st, 2009 by maitreya. Filed under Projects with Instructions, Sewing/Fabric Crafts.
I keep resolving to bring my lunch to lab more often, so I made a little commitment device, a new lunchbag.  My old one was a promotional "Labby the Labster" bag I've been using for like 6 years, but which I appear to have finally lost (the only evidence I could Google of Labby's existance is this page in Spanish, RIP Labby).
Lunchbag qualities desired: washable, low fuss, foldable into small size for stuffing in purse to bring home, cute.  I remembered I still have lots of an Ikea tablecloth leftover from this bag I made Amy last year, so that ticks "washable" and "cute."  For pattern inspiration, I paged through Japanese craft book ISBN4529042642, which is all about lunch bags.  Here's a simple bag with a tie closure that I found appealing:
I decided not to bother with the handles or the lining (tick "low fuss" and also helps with foldable-ness) and to just wing the bag shape with the scraps I already happened to have.  Essentially, I just sewed 2 12×12 inch squares together along 3 sides, sewed the corners out flat to make the bottom, and topstiched all the folds to give it some structure.  It was really easy.  The great thing about the tablecloth is the edges don't ravel, so I didn't have to finish any of the seams.  The tie is just a little piece of woven tape sewed on one side.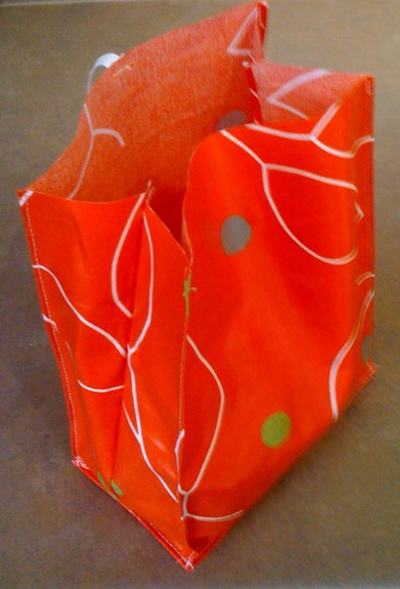 And here's my lunch all packed for tomorrow. :)
2 Responses to "lunchbag"
email
maitreya[@]craftlog[.]org
books I'm in
Pinterest
This week, I'm in Jaipur, India, starting my second teaching stint with Ritchie Ace Camps. Last year's Jaipur experience was amazing (lots of pics here), and I can't wait to meet everyone who is coming on the 2015 version (although I'm going to miss last year's group like mad!). I hadn't used block printing techniques a lot …
Categories
Blogroll
Archives
creative commons
craftlog is under a
Creative Commons
Attribution Noncommercial
license
. That means that you are all welcome to take and repost my photos, replicate my projects, remix my ideas, whatever you want as long as you give attribution (a link is fine) and it's noncommercial. Thanks!