Posted on October 26th, 2009 by maitreya. Filed under Projects with Instructions, Sewing/Fabric Crafts.
Today in crafts with very poor effort:payoff ratios, I made a dishcloth.  Not sure why I felt the need to do this, but it has something to do with the scrap patchwork binding mairuru posted the other day.  I needed an excuse to make it.  And in unpacking my fabric I discovered a big piece of thrifted waffle weave I forgot I had.  2+2=dishcloth with scrappy trim.  Yeah, so, first I dumped out all my actual scraps and rummaged through them before deciding ironing and cutting them would be too much work.  Instead, I used a pile of charm squares:  cut them all diagonally down the middle, sewed together the triangles in a big strip on the bias, ironed, cut to 2 inch even strip (this is so much easier for me than trying to keep everything straight while I'm sewing).  I used a double thickness of the waffle-weave, cut to 13×13 inches since that perimeter was about the length of bias trim I got from 10 charm squares.  Then I decided to try a brilliant 2-part improvised strategy for sewing on the binding, which sort of worked, but not nearly as well as in my mind, which is why I'm not going to bother describing it.
Anyway, that was way too much effort for a dishcloth.  Oh well.  At least I'm sewing again!
[Oh, and sorry about the brief craftlog outage earlier this week.  Server upgrade broke some stuff.]
ETA: oh, what the heck, I already had the triangles cut for a second one.  Now I have a set in 2 different colorways of the same fabric patterns.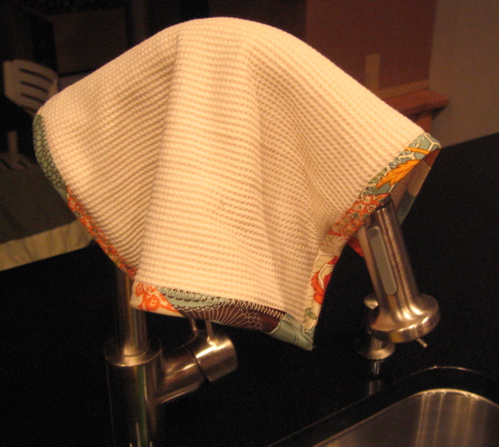 2 Responses to "dishcloths"
email
maitreya[@]craftlog[.]org
books I'm in
Pinterest
This recipe with white beans is probably my favorite farro salad yet. The creamy beans play a huge role in that, along with the sweet tender leeks and fresh parsley. But it's the chunks of salty, citrusy preserved lemon, a condiment often used in Moroccan cooking, that really takes this salad to the next level.
Categories
Blogroll
Archives
creative commons
craftlog is under a
Creative Commons
Attribution Noncommercial
license
. That means that you are all welcome to take and repost my photos, replicate my projects, remix my ideas, whatever you want as long as you give attribution (a link is fine) and it's noncommercial. Thanks!