Posted on November 13th, 2009 by maitreya. Filed under Holiday, Paper Crafts.
I am fascinated by the trends that sweep through blogland (I used to do a column for Whip Up called memewatch).  Envelope security linings appears to be one that's been picking up steam for quite a while, and I am not immune to their charms.  Recycling bin diving tonight came up with 7 envelopes of various blue and gray shades.  I added a few other papers (graph paper and origami prints and solids) to bulk it up.
I cut 3.5 inch circles and stiched them down the middle in packs of 4-5, stiched the packs together, then fanned the "pages" out to make a ball.  I left long thread ends to tie in a loop as a hanger.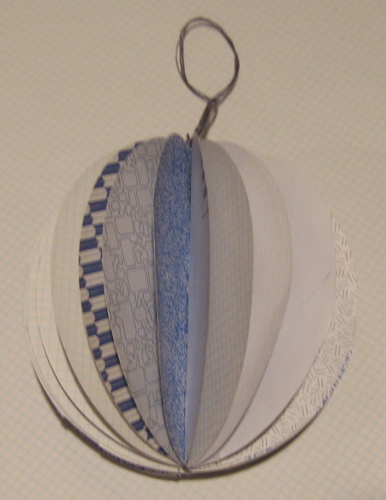 Did I mention that this was difficult to take a good picture of?  Yeah, sorry about that.  Also, what am I doing making xmas crafts before Thanksgiving?  Thanks a lot, Christmas-industrial complex.
One Response to "paper ball ornament"
email
books I'm in
other sites I'm on
Pinterest
Categories
Blogroll
Archives
creative commons