Posted on November 13th, 2009 by maitreya. Filed under Holiday, Paper Crafts.
I am fascinated by the trends that sweep through blogland (I used to do a column for Whip Up called memewatch).  Envelope security linings appears to be one that's been picking up steam for quite a while, and I am not immune to their charms.  Recycling bin diving tonight came up with 7 envelopes of various blue and gray shades.  I added a few other papers (graph paper and origami prints and solids) to bulk it up.
I cut 3.5 inch circles and stiched them down the middle in packs of 4-5, stiched the packs together, then fanned the "pages" out to make a ball.  I left long thread ends to tie in a loop as a hanger.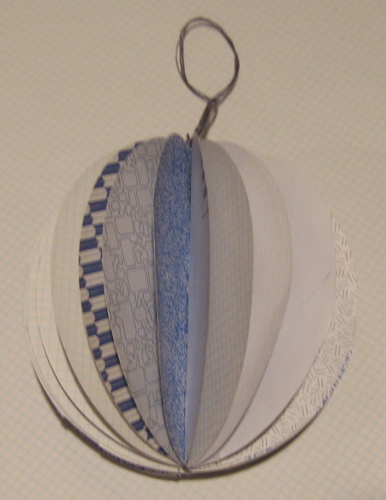 Did I mention that this was difficult to take a good picture of?  Yeah, sorry about that.  Also, what am I doing making xmas crafts before Thanksgiving?  Thanks a lot, Christmas-industrial complex.
One Response to "paper ball ornament"
email
maitreya[@]craftlog[.]org
books I'm in
Pinterest
Categories
Blogroll
Archives
creative commons
craftlog is under a
Creative Commons
Attribution Noncommercial
license
. That means that you are all welcome to take and repost my photos, replicate my projects, remix my ideas, whatever you want as long as you give attribution (a link is fine) and it's noncommercial. Thanks!